Spirulina Benefits
If you're a foodie, you're probably in awe of that blue-green color spirulina magically produces in recipes! I'm happy to report it's just as nutrient dense as it is beautiful! If you've never heard of Spirulina, it is a blue-green algae, which is a nutritional powerhouse! I incorporate Vital Proteins Spirulina into my diet daily! So why should YOU be taking it?
Nutritional Powerhouse: Spirulina contains all 8 essential amino acids as well as 10 nonessential amino acids. Spirulina is rich in vitamins A, B1, B2, B6, E, and K. The enzymes and phytonutrients in Spirulina allow all the vitamins and minerals to be absorbed by the body, unlike factory made vitamins, which lose their potency and are not always absorbed.
Plant Based Protein: With all essential amino acids (amino acids that cannot be made by the body), Spirulina is a complete protein. By weight, spirulina has the highest percentage of protein of any source known, at 65% protein (for reference, beef is only 22% protein). It is nut-free, grain-free and vegan, making it a great protein source for a wide variety of diets.
Detoxes Heavy Metals: You may not think about toxins, but you are exposed to them on a daily basis. Think about the mercury in fillings and fish, cadmium in chocolate, aluminum in non-natural deodorants… the list goes on. Spirulina is effective at removing heavy metals from your body, especially taken with cilantro (at least in the same day, if not same meal!)
Potent Antioxidant: Spirulina contains the active component phycocyanin, which is the antioxidant that gives spirulina its blue-green color. Research shows phycocyanin has the ability to generate the production of stem cells, giving your body the tools it needs to repair itself.
Potent Anti-inflammatory: Research has shown that Spirulina inhibits the effects of histamines, which produce an inflammatory response in the body. Spirulina has also been shown to increase Natural Killer Cell activity, and inhibit inflammatory growth factors such as TNF and COX-2.
Prevents Heart Disease: High blood pressure and high cholesoral are both markers for heart disease. Research has shown Spirulina significantly reduces LDL cholesterol, which is known as our bad cholesterol. Spirulina reduces blood pressure by increasing the production of Nitric Oxide in the body, which dilates blood vessels and improves blood flow; therefore reducing blood pressure. Reducing both blood pressure and cholesterol significantly prevents the risk of heart disease.
Boosts Energy: Spirulina has a high concentration of Iron, which has a direct effect on energy levels. One of the first signs of iron deficiency is fatigue or lethargy. Getting optimal levels of iron maximizes the oxygen capabilities of the body, helping to increase athletic performance and energy levels. Spirulina is also loaded with B Vitamins, which help boost metabolism and energy levels.
Improves Digestion: Did you know Spirulina helps those with digestive issues? It improves digestion by improving the absorption of nutrients in your body!
Vital Proteins makes an amazing Spirulina supplement. Did you know the easiest way to absorb it is in powder form? Vital Proteins encapsulated the powder, making it an easy on-the-go option! You can take the capsules as is, or open them to make tons of delicious recipes. I usually do a little of both, but love that I have the option to bring it with me, since I am always on the go. It also has a very overpowering taste, so if I don't have time to make something, the capsules help me get it down easily.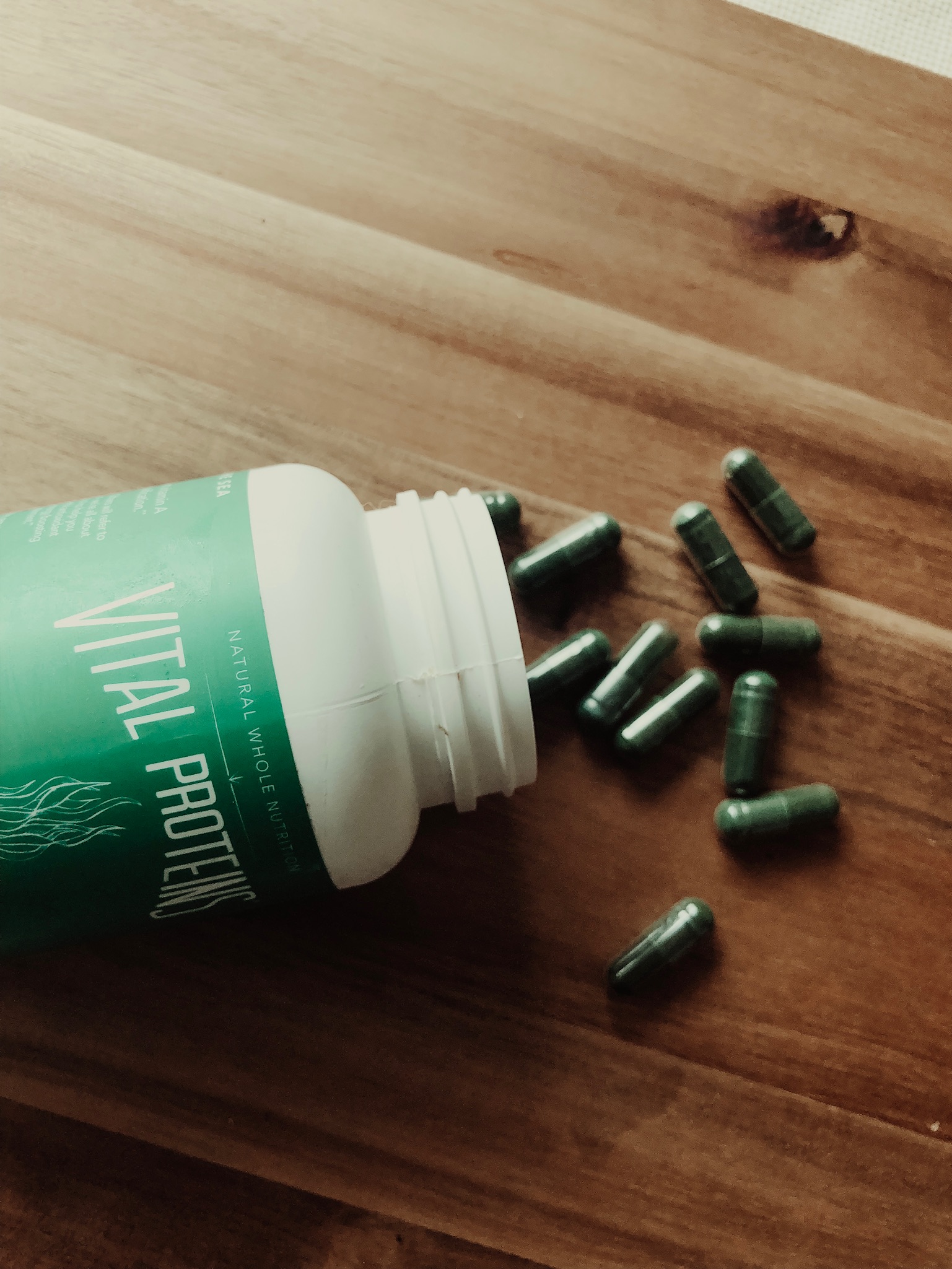 230% DV Vitamin A – supports healthy immune system and bone health
100% vegetarian and vegan friendly – Vital Proteins' first vegetarian and vegan product
Contains essential immunity-boosting and antioxidant properties – packed with vitamins and minerals essential for a healthy immune system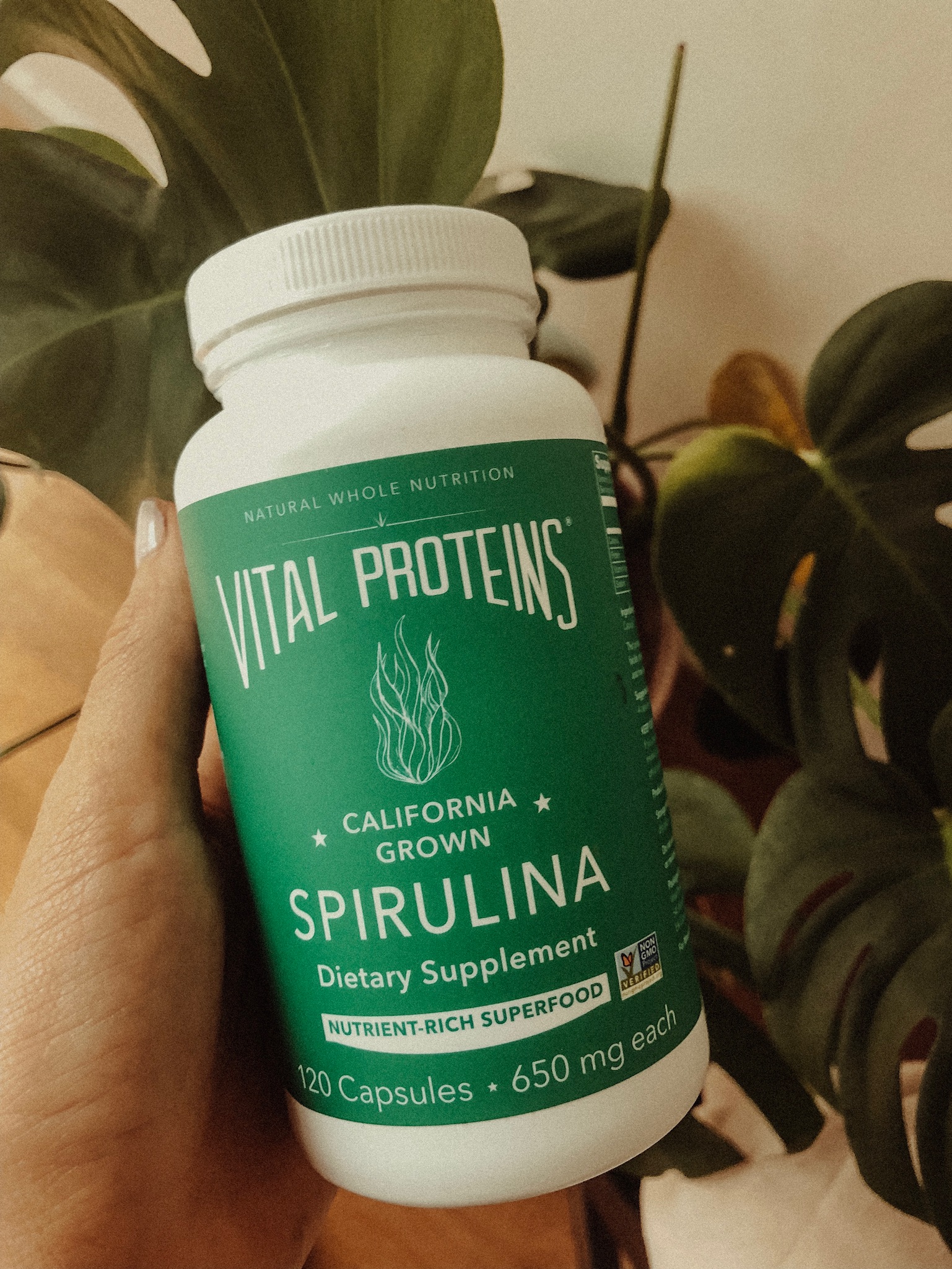 Now that you know all the benefits.. I'll share my go-to Spirulina smoothie!! So simple, just 3 ingredients needed. You can adjust the thickness depending on how much liquid you use!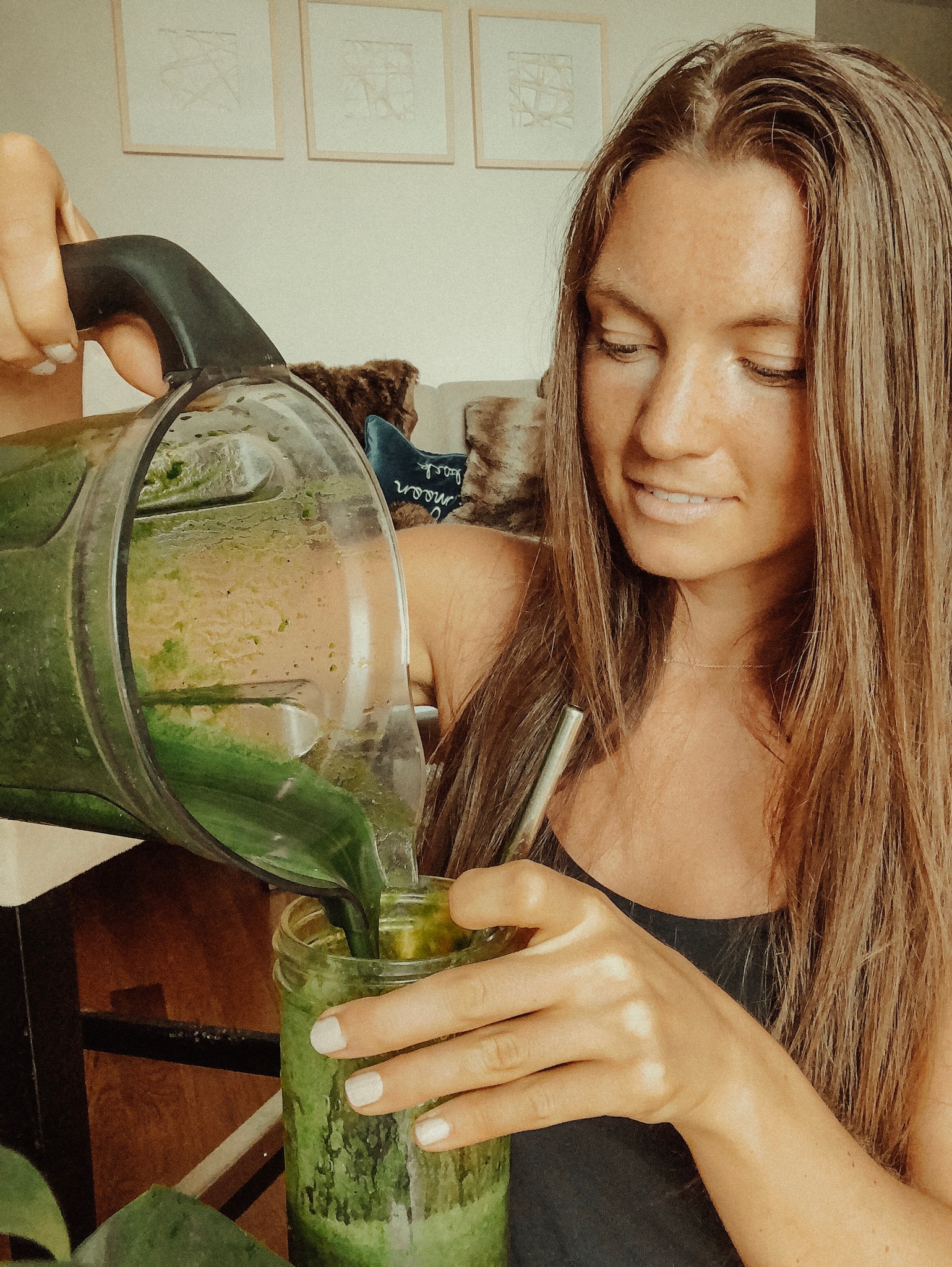 To make my coconut milk ice cubes, I freeze full fat canned coconut (I buy mine from Trader Joe's since that brand has no additives or gums) in a silicone ice cube tray. The coconut and banana combo is so delicious together! Alternatively if you wanted to leave out banana, you could just add more coconut ice cubes or frozen coconut meat, and blend with coconut water to get the sweetness.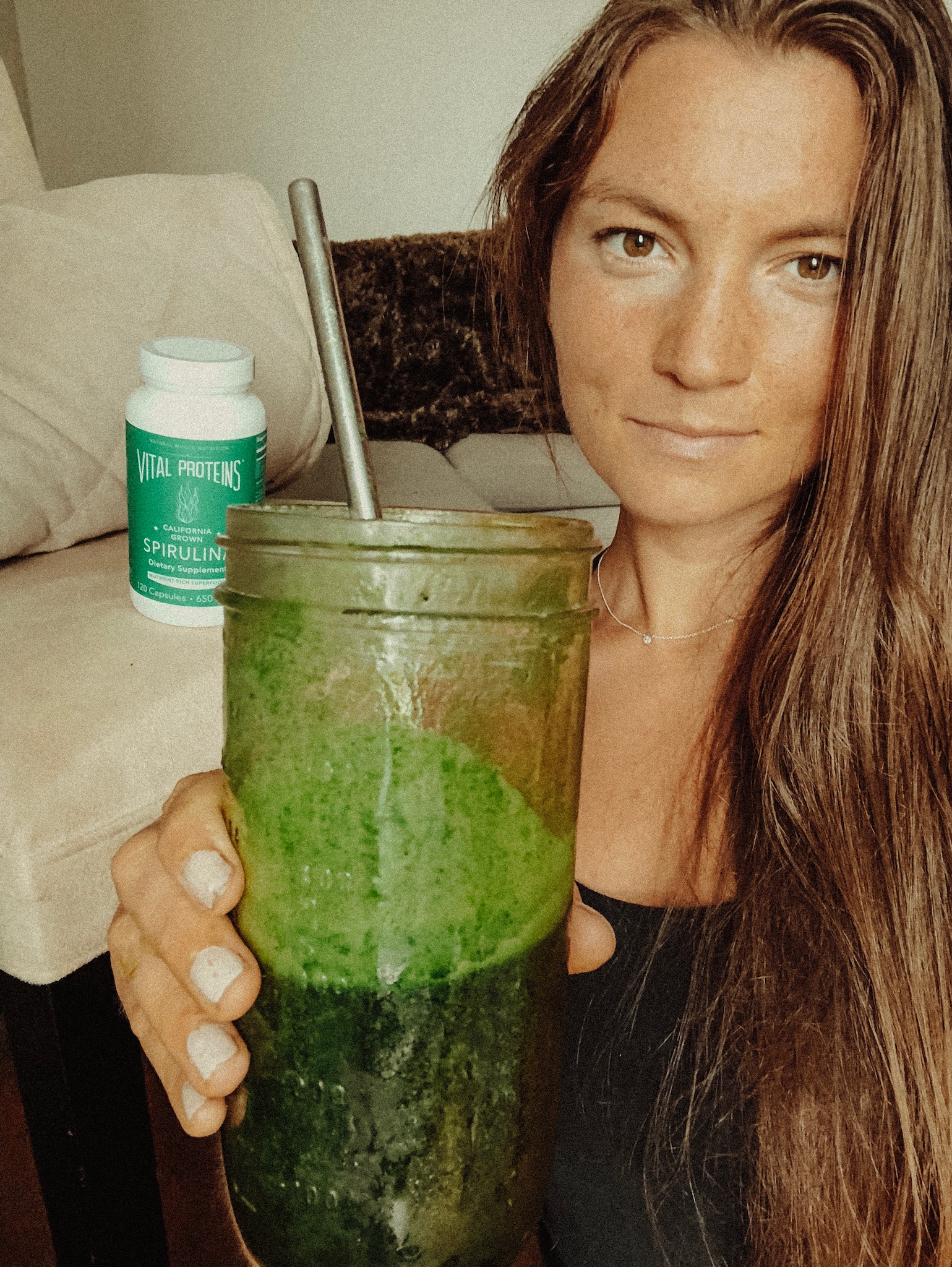 Banana Coconut Spirulina Smoothie
Ingredients
1 1/2 frozen spotty bananas (easier to digest and sweeter)
4 emptied capsules Vital Proteins Spirulina
3 coconut milk ice cubes
1 c ice
1-3 cups liquid, depending on how thick you want it (water, nut milk and coconut water all taste great)
Directions
Step 1

Add all ingredients to blender and blend until smooth!