Let's talk adaptogens. If you've been following me for a while, you know I love incorporating adaptogens into my diet and daily routine! So what are they exactly? Adaptogens are herbs that help your body adapt to stress. With consistent use, incorporating these herbs can help boost your body's resistance to emotional, physical, chemical and psychological stress. Cool right?! What's even cooler is they work in synergy with the individual. Say your cortisol levels are too high, adaptogens will work to lower them, bringing  you back to a normal state. If they're too low, it works to boost your levels! Essentially, wherever you're at, adaptogens work to bring your body back to balance.
Different adaptogens have different effects, but my personal favorite is Sensoril Ashwagandha. Ashwagandha is one of the most vital and powerful herbs in Ayerverdic medicine, for good reason. It has a calming effect on the body, most notably, helping to reduce anxiety and stress (something we could all use a little help with)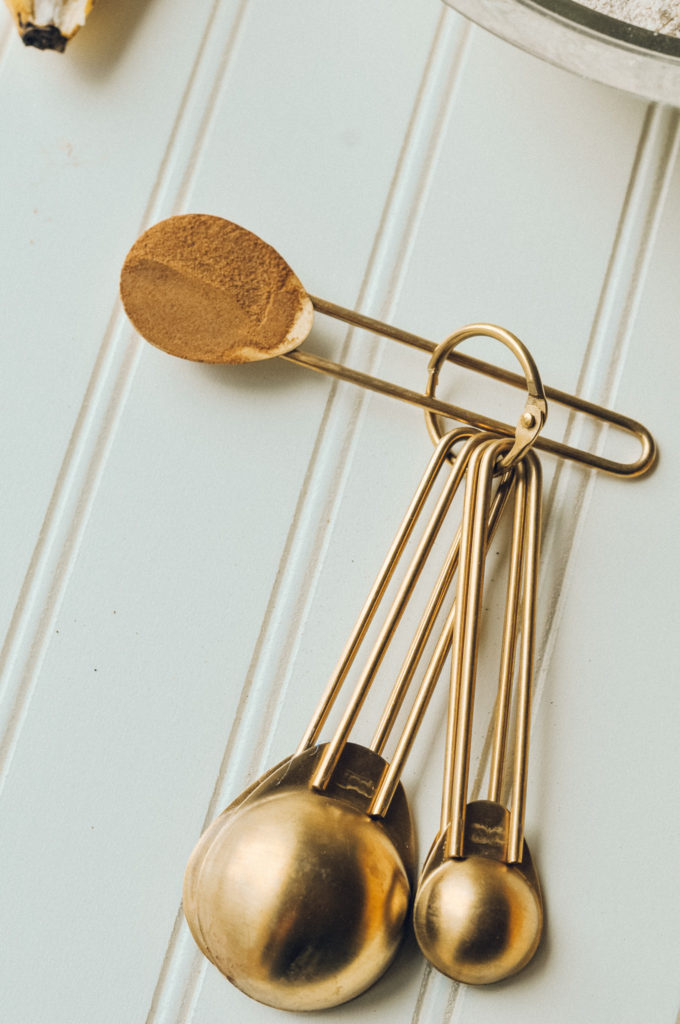 It's also proven beneficial in cases of:
fatigue
rheumatism
low libido
constipation
insomnia
neurological conditions
poor memory/difficult concentrating
goiter
joint pain & inflammation
parasites
hormone balance, and more
Ashwagandha's sanskrit meaning is "the smell of a horse" — both for it's harsh taste, but also its powerful effects — that of a stallion. Ashwagandha's healing benefits may include:
Stabilizing and reducing blood sugar levels
Lowering cholesterol
Anti-inflammatory and analgesic benefits
Reducing anxiety and depression
Improving learning and memory
Combating effects of stress
Anti-cancer properties
Reducing cortisol levels
Sensoril ashwagandha's certified-organic product is a patented blend of roots and leaves, which results in the highest level of bio-actives of any Ashwagandha. With multiple U.S. / International studies, & backed by 11 patents, Sensoril Ashwaganha is the featured ingredient in many well-known wellness products — my favorite being Moon Juice's SuperYou Adaptogen Capsules!
In order to combat the bitter taste, I love infusing recipes with ashwagandha!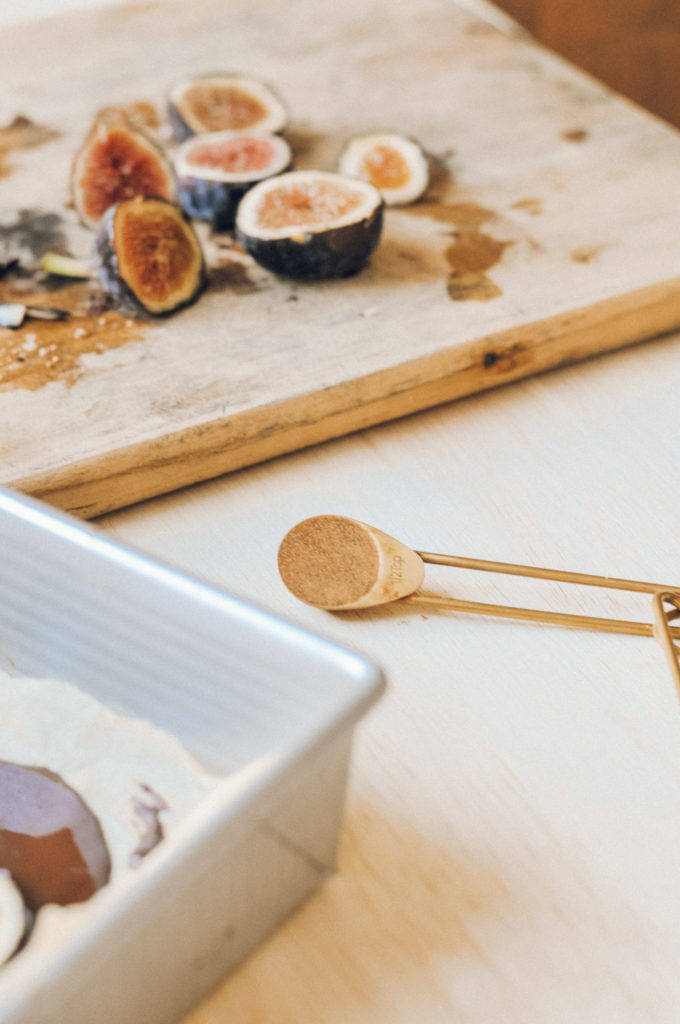 Specifically, chocolate — Chocolate and adaptogens are a match made in heaven. Cacao contains antioxidants that increase dopamine levels, increasing that "feel-good" chemical in the brain, serotonin. Cacao is also rich in minerals such as magnesium, causing muscles to relax. Pairing cacao and ashwagandha is the perfect stress-reducing combo. Did you know up to 80% of all disease is due to stress? So why not combat it with an insanely delicious treat!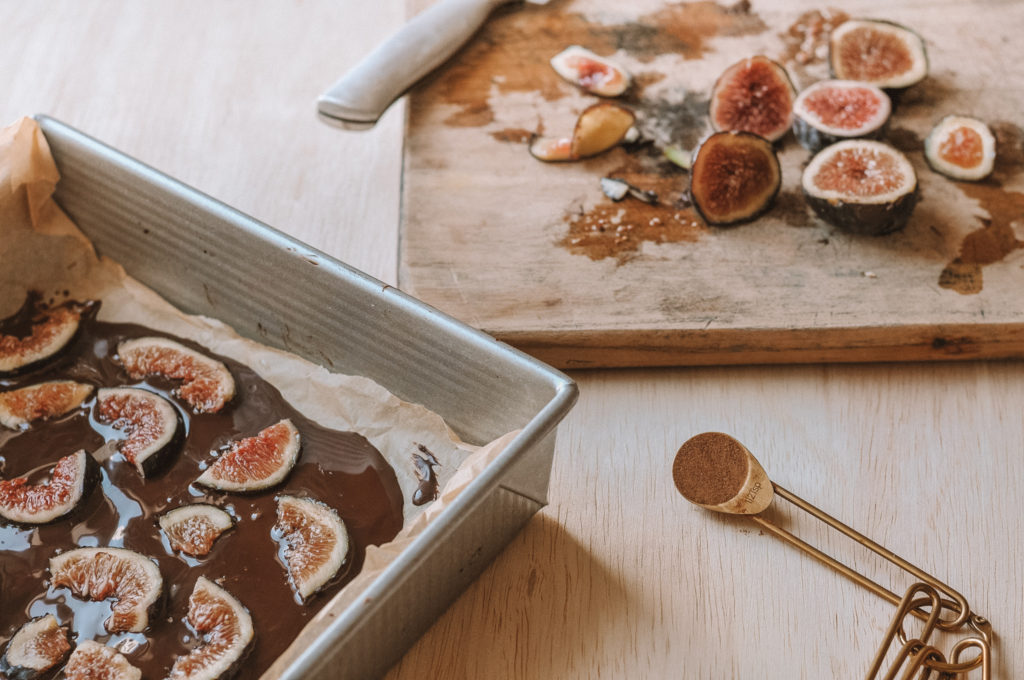 This ashwagandha infused chocolate bark is SO easy to make. You can either make your own chocolate, or simply melt down your favorite bar! Once you have your melted chocolate, mix in 1/2-1 tsp of ashwagandha, pour into a pan lined with parchment paper, add your favorite toppings, and freeze! Simple as that.
With summer still here, adding fresh figs was a no brainer. I mean, just look at those colors! Tomorrow may be September 1st, but I'm still soaking up every last bit of these juicy summer fruits. BUT you could add any toppings you'd like and won't go wrong — nuts, seeds, coconut, dried fruit, fresh fruit, you name it!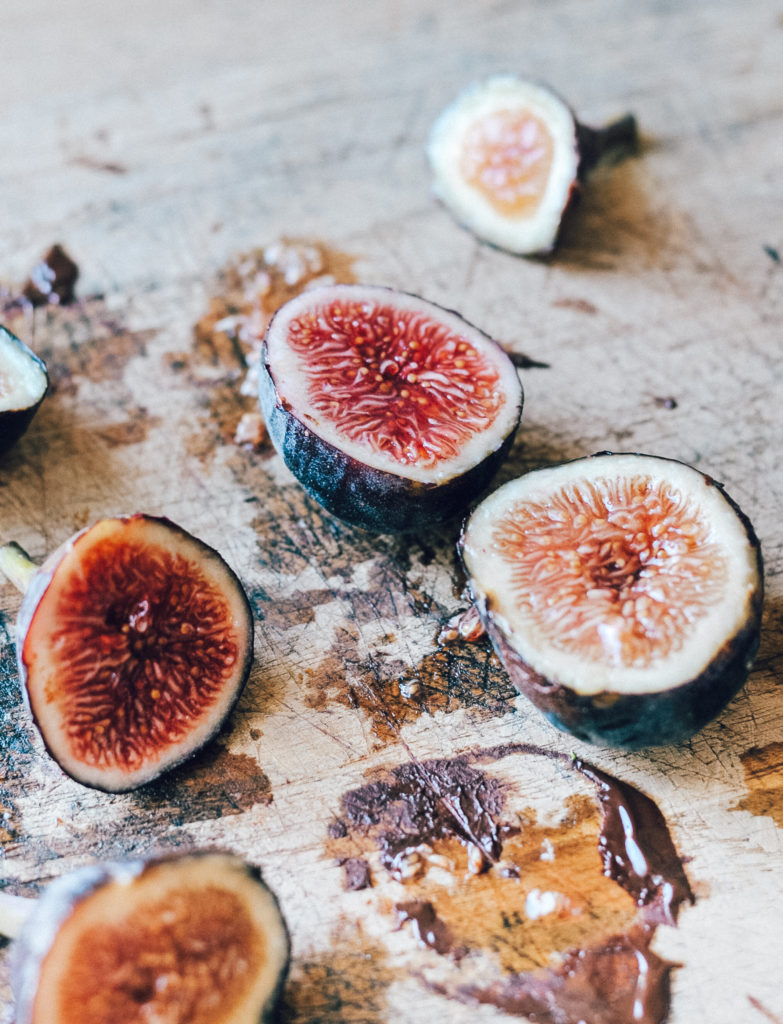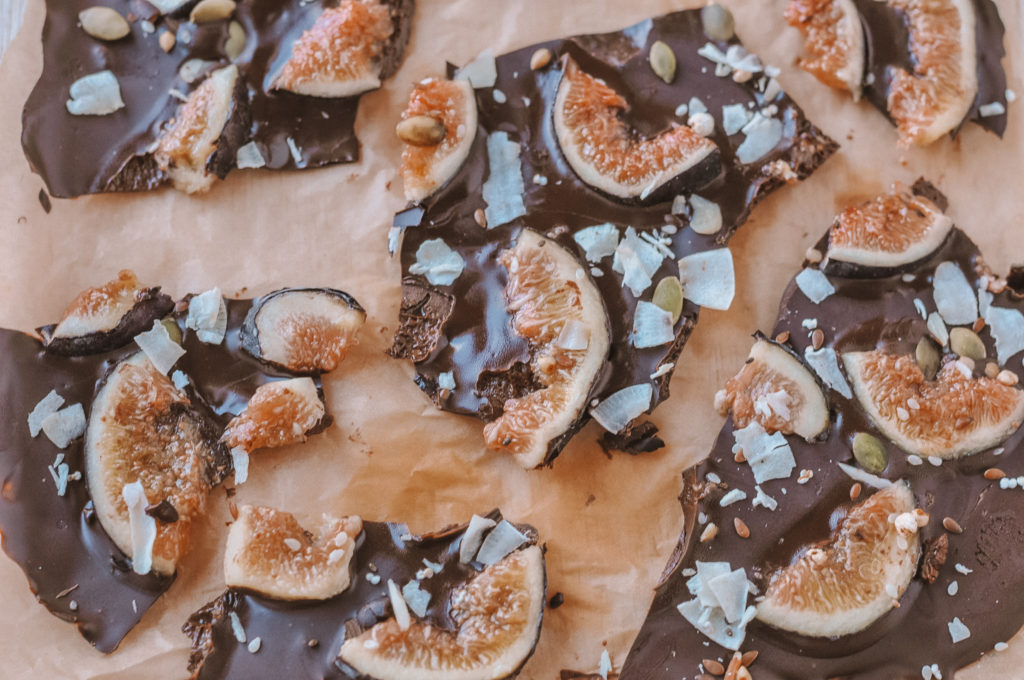 Ashwagandha Infused Fig chocolate
Ingredients
1/2 c chopped cocoa butter (different from coconut butter)
1/4 c sweeter of choice (maple syrup, honey, coconut nectar, date paste all work well)
1/4 c unsweetened cacao
1 tsp vanilla extract
1/2 tsp Sensoril Ashwaganha
Toppings of choice( I used figs, pumpkin seeds, dried coconut, and cacao nibs)
Directions
Step 1

Bring small saucer of water to a boil

Step 2

Add chopped cocoa butter to a glass bowl or another smaller saucer and set on top of boiling water to create a double broiler

Step 3

Melt cocoa butter, occasionally stirring

Step 4

Once melted, remove bowl from stove and whisk in remaining ingredients until well combined

Step 5

Let melted chocolate cool down, then pour into a pan lined with parchment paper *** alternatively you could melt your favorite chocolate bar (adding in ashwagandha) and skip the above steps

Step 6

Add toppings of choice

Step 7

Freeze until solid (timing will differ depending if you used a store-bought chocolate bar or made your own)

Step 8

Once frozen, break into pieces

Step 9

Store in freezer
If you give this recipe a try, tag me on instagram at @themindbodyblueprint so I can see your creations!