If you want to give Sakara a try, use my code XOLexy for 20% off
There are hundreds of diets, cleanses, detoxes, weight loss programs and meal prep companies. What makes Sakara different? It's not a diet, it's not a quick fix, it's a lifestyle.
Sakara Life, the all organic, plant-based pre-portioned meal delivery service, is changing the meal prep industry… in the best way possible. Sakara's meal programs aren't driven by calorie values and macros, in fact, you won't even find that information on their labels.
No calories? No macros? For all of you type A personalities or those so deep in diet culture, I know, the thought of not being able to calculate what's on your plate might scare you. Behold, intuitive eating.
Sakara and Intuitive Eating
The goal of Sakara is to break this cycle of thinking. Instead of obsessing over the quantity of food we're eating, let's start obsessing over the quality. Rather than eating "diet food" or restricting yourself, see what happens when you learn to listen to your body. Along with no calorie counting, this is one of the guiding principles behind Sakara, that of body intelligence. What exactly does this mean? Listening to your body and honoring what it's asking of you.
Our bodies are much smarter than we give them credit for. They will tell you when you're hungry, full, thirsty, tired, under-nourished, over-indulged. When we actually take a step back and listen to our body, it's called intuitive eating. How do we achieve this? By fueling our body with the nutrients and nourishment it needs to perform, think, and feel its best. 
The foundation behind Sakara's Plant Based Meal Delivery
What makes Sakara Life so different? The foundation behind their Plant Based Meal Delivery. The basis behind every meal is founded upon Sakara's guiding pillars – body intelligence, no calorie counting, plant-based protein, eat your water, greens (4-6 cups!), good fats, sulfur-rich veggies, eat the rainbow, and nutrient density. As you can see, the focus is solely on the quality of food with the end goal of nourishment. No restriction. No dieting. Just whole, real, plant foods, and delicious ones at that.
What you feed your body either heals it or hurts it. Sakara is all about promoting a way of eating that in turn promotes a healthy way of living. Want to achieve the best version of yourself? Look your best? Feel your best? It all starts with your diet. The way you eat can change your life!
Convenience without Sacrificing Quality
I think we can all agree that a major reason our diet gets put on the back burner is a lack of time. While preparing delicious nourishing recipes at home is obviously ideal, we don't always have the time to go to the grocery store and dedicate hours in the kitchen, or the patience to learn and prepare a new recipe. That's why delivery services and meal prep companies are so ideal, convenience. Are fast food options typically healthy? Not likely. At least not to the standard and quality our body truly deserves.
That's where Sakara comes in. Imagine you were to make the most extravagant yet nourishing dish at home, for breakfast, lunch, and dinner. That's what Sakara provides, delivered straight to your door. It's no wonder celebs like Gwyneth Paltrow and Victoria Secret models eat this diet. They are premium meals made with the best quality foods, but if we're going in invest in anything for ourselves… shouldn't it be our health?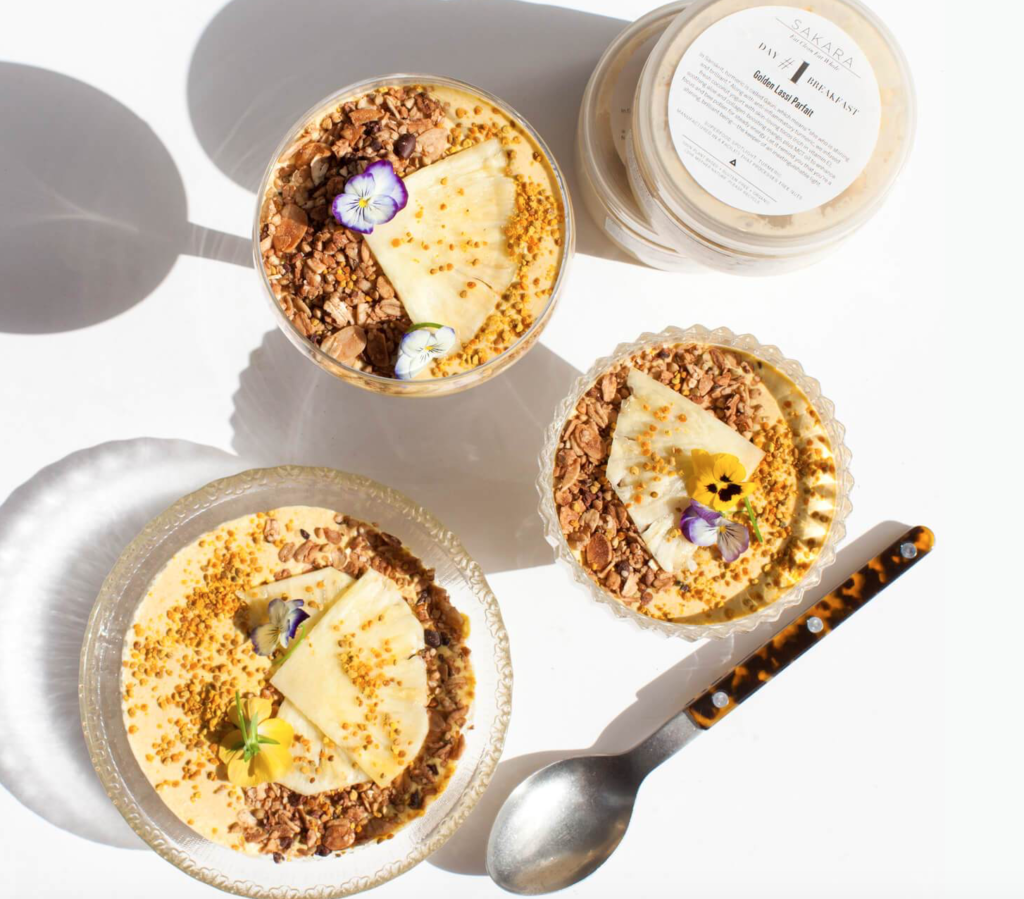 Sakara Meal Prep Programs
Similar to other meal prep services, you can choose from different subscription options. There are three, five, and seven-day meal plan options which include either two or three meals a day, depending on which you choose. There are two different programs, the Signature Program, and the Detox Program. While the menu is a little pricey, you certainly get what you pay for. If you're new to Sakara you can also use my code XOLexy for a 20% discount! Take advantage while you can, this is a steal!
Are you ready to order? The menu is the best part, obviously. Each week there is a completely different menu to choose from with fresh, vibrant ingredients. Each mouthful is literally a bite of nutrients. All ingredients are made up of whole foods and plants, but they are not boring meals by any means. In fact, all meals are meant to satisfy your cravings and leave you feeling nourished.
Next weeks menu has items like Lemon Poppy Seed Donuts with citrus crème, dark chocolate granola (one of my favorites), Margarita Flat Bread and a Black Garlic BBQ burger… just to name a few. I am drooling at the thought. Ingredients are made with mostly fruits and veggies, nuts, seeds, and superfoods. Honestly, what's not to love?
Are you ready to look and feel your best?
Beyond the insanely delicious (and satisfying meals) I love the Sakara mission. To learn to love, honor, and nourish your body while leaving behind diet culture. This company is transforming health, and it's transforming lives. If you're looking to feel your best, look your best, and optimize your health, look no further than Sakara! I am thankful to have a healthy food delivery service and company I can rely on during those busy weeks!

Don't forget, if you're new to Sakara and want to try it out, use my code XOLexy for 20% off! If you do try it out, I'd love to hear your experience (and favorite menu item!!)