Acupressure, similar to acupuncture, is an integral technique in Chinese medicine used to circulate energy through the body, by means of pressure. Acupuncture uses needles to do this, while acupressure typically uses massaging to locate and access your pressure points.
What if I told you, you could get all these benefits without leaving our house?! All you have to do is step on your mat.
Not your yoga mat — your Prana ECO Accupressue Mat.
The Prana Mat uses acupressure to stimulate and relax muscles, accessing our pressure points and therefore reducing, improving, and preventing muscle pain and injury.
So how exactly does the Prana Mat work?
The Prana Mat has 221 lotus-flower massagers and over 5,000 lotus pedals.. thats over 5,000 points of acupressure every time you step on to your mat! Beware: These lotus flowers are very sharp, but that's how they work their magic. These sharp points all work to increase your circulation, stimulating your body's natural energy flow, or Chi.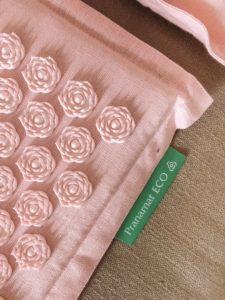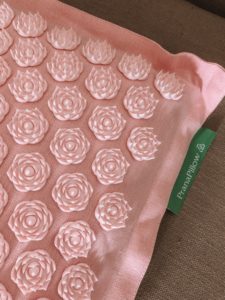 The stimulation from these sharp points causes your body to produce endorphins. Endorphins are produced in response to certain stimuli, especially stress, fear, and pain; in this case, pain. The acupressure from your Prana Mat unblocks meridians by means of acupoints. In response to the pressure from these acupoints, your brain produces endorphins to quiet the feelings of pain and replace them with feelings of pleasure. Basically, a natural painkiller.
Imagine all the times this would come in handy — my first thought was my cross-country roadtrip. I'm going to be sitting in a car, accumulating lower back pain while on the road for 8-12 weeks; you better believe I will be bringing my Prana Mat! You can even use it while you're driving! The benefits from your mat extend to post workouts, any sedentary activity like sitting at a desk job, long car rides, a stressful day, any muscle pain or injury, the list goes on..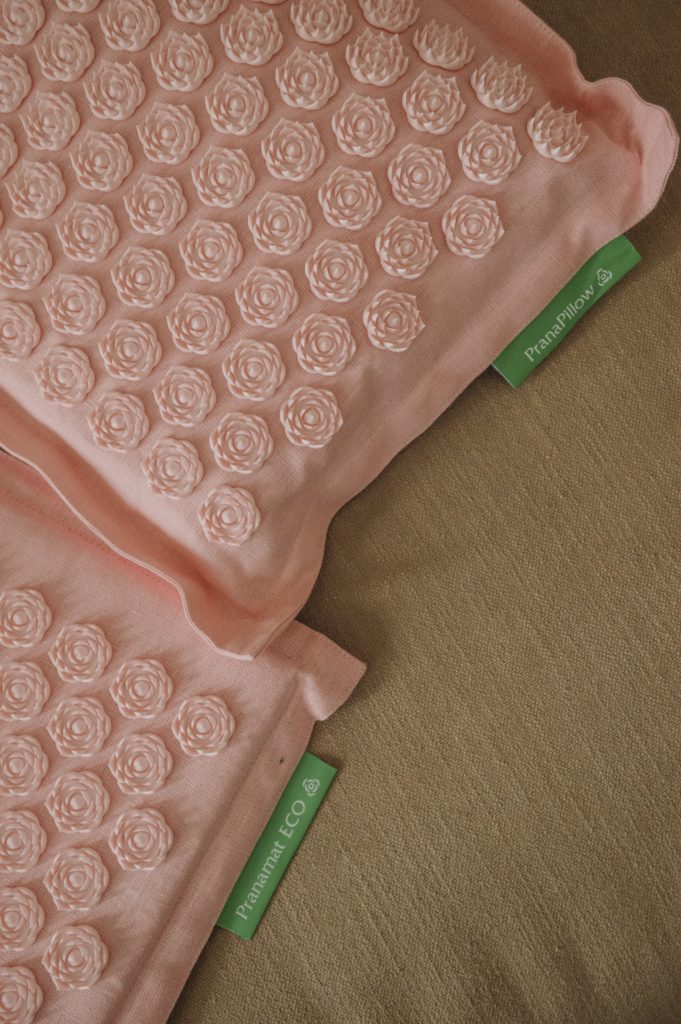 Benefits of the Prana Eco Mat:
Additional benefits include: better blood circulation, the reduction on inflammation (and even cellulite!), boosting your metabolism, and of course stress and pain relief.
Eco Friendly: Not only is the mat aesthetically beautiful (with a range in colors to choose from), but its eco-friendly materials are the major selling point. Prana Mat is all about sustainability. The outer layer is made with 100% natural linen, the inner layer from natural coconut fibers and untreated cotton, and the lotus flowers from medical grade, high-impact, polystyrene plastic. Not only is the prana mat serving you, but it's also doing the environment good.
Cost: The mat itself comes in at $135, the average cost of a yoga mat but with all of benefits, making it worth the investment. They have an amazing cancellation and return policy. If you're not happy with your purchase, you have 30-day's from the date you received your order to return it, so long as it is undamaged.
Travel-friendly: This is a huge factor in my opinion. We are always on the go, and lugging a heavy and spacious product just isn't going to cut it. The Prana Mat is light-weight and compact, making it perfect to travel with or bring on-the-go. The pranamat has huge benefits for sedentary activities like traveling (flying or driving) or desk jobs, where your muscles are going to tighten up and accumulate pain. Simply roll out your mat wherever you are and let it work it's magic!
Do you have any questions about the Prana Mat? Have you tried it out for yourself before? Leave any questions and comments below! 🙂