Marine Collagen Benefits and Why You Should Take it. Without fail, a daily staple in my diet is MARINE COLLAGEN! I started using Vital Proteins Marine Collagen a year ago, and it has been SO amazing for my body and health. Once realizing all the ways Vital Proteins was benefiting my body (especially my gut!) it became an essential part of my diet instead of the occasional supplement. So what are the benefits and why should you take it?
Why I started incorporating Marine Collagen into my diet
If you're like me, protein powders and supplements can make you feel awful. I had tried every protein powder on the shelves, and I always felt bloated and uncomfortably full. Most protein powders have added sugar, sodium, gums, or fillers, which we don't realize or think about! This can cause bloating, gas, inflammation and all sorts of other digestive symptoms. Vital Proteins Marine Collagen is made with one ingredient: Wild-caught, Marine Collagen. That's the way it should be when you use a supplement!! Just one serving contains 18g of protein and 20g of collagen.
I workout a ton. Before I discovered Vital Proteins, I was supplementing with protein powders to make sure I was getting an adequate amount of protein on a vegan diet. BUT every time I used a protein powder, I felt heavy and bloated — you shouldn't feel this way! I would come home from the gym or a workout and make a smoothie with tons of greens and fruits, plus whatever protein powder I was using at the time. Within the hour I always felt awful. That's when I discovered Vital Proteins, and decided it was worth giving it a try. While I am plant based with the exception of incorporating fish, I feel good incorporating Vital Proteins into my diet. Aside from Marine Collagen and fish, I still adopt a plant based lifestyle, but I noticed my body looks and feels its absolute with the addition of Marine Collagen!
What is Collagen?
There are so many benefits to incorporating marine collagen into your diet. If you've never heard of collagen, it is the most abundant protein in our body. It is made up of amino acids – predominately glycine, proline, hydroxyproline, and arginine. These amino acids help give structure to our hair, skin, nails, bones, ligaments, tendons AND (most importantly, in my opinion) maintain a healthy gut! The essential amino acids in Vital Proteins Marine Collagen are readily usable and easily digested by the body. I can truly say I never feel bloated, uncomfortable or heavy when taking this protein supplement, which is why I've come to use it daily.
How I use Marine Collagen and my favorite Vital Protein's Products
I use Vital Proteins Marine Collagen in my coffee every single morning. It's apart of my daily ritual that I swear by. If you didn't already know, I'll let you in on a little secret — collagen is the secret ingredient to getting that extra foamy latte that you drool over while scrolling through your instagram feed! One of its many benefits.
All of Vital Protein's products contain zero added sugars, preservatives, or fillers! While I maintain a pescatarian diet, there are tons of flavors to choose from for all diet types, vegan included!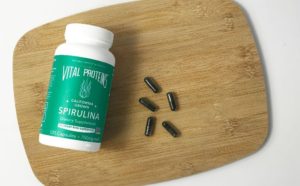 One of my other favorite supplements (which is Vegan) is their Spirulina Supplement.
Spirulina is a great detoxifier and antioxidant, and is packed with phyto-nutrients.
Give any recipe a boost in protein + hair, skin, nail and gut health. I am happy to say my body has benefited SO much from the addition of this supplement. It's truly one of the few products I cannot go a day without. If you're looking to incorporate collagen in your diet and don't know where to begin, the basic unflavored Collagen Peptides or Marine Collagen is always a good place to start; both are flavorless, orderless, and mix well in any liquid!!