Oil-free Vegan banana bread. Enough said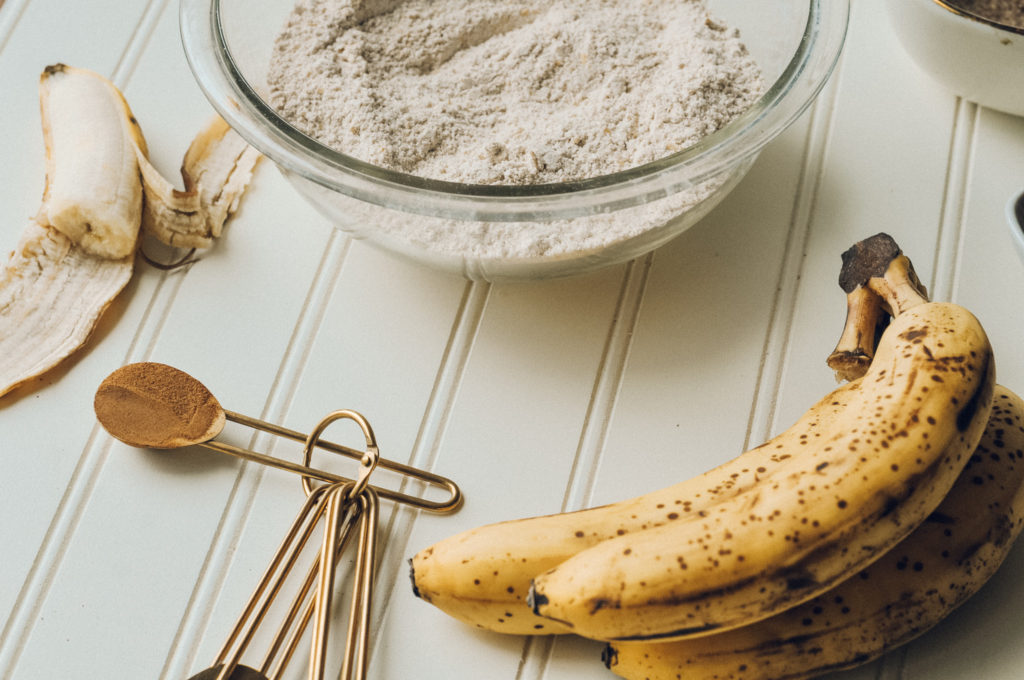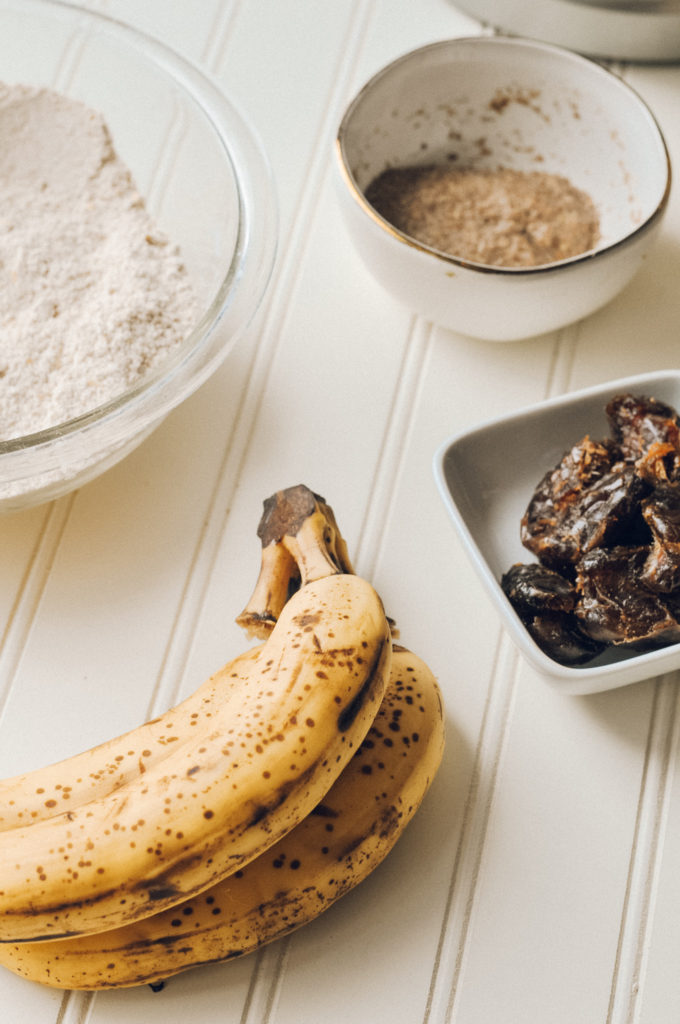 It is oil-free
melt in your mouth moist
naturally sweetened with bananas and dates
& made with just a few wholesome ingredients
Plus it makes your kitchen smell like a dream. Win-win
Before I give you the recipe, I'll share with you a little baking hack! No need to wait for your bananas to turn brown to make this decadent recipe. Turn any color banana into a perfectly sweet, ripe black with this simple trick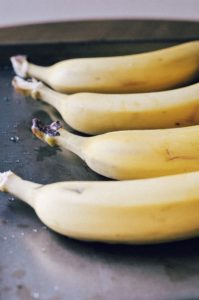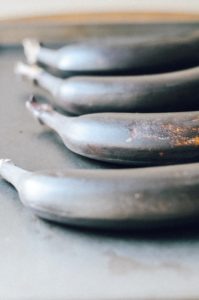 Turn underripe bananas into their sweet, ready-to- bake counterparts — simply bake them! Lay bananas on a baking sheet, and bake on 300F degrees for 15-30 minutes, depending on their ripeness. They will be ready once bananas are fragrant & have black, shiny skin.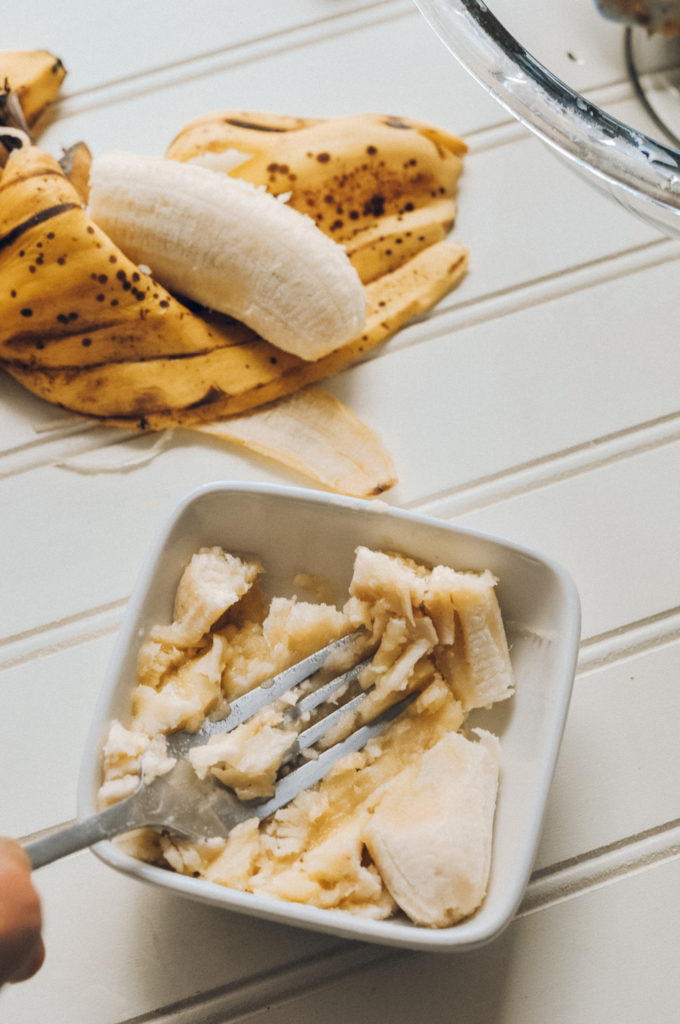 The key to this recipe is making sure the batter is moist! You want to achieve a paste-like texture from the wet ingredients, like so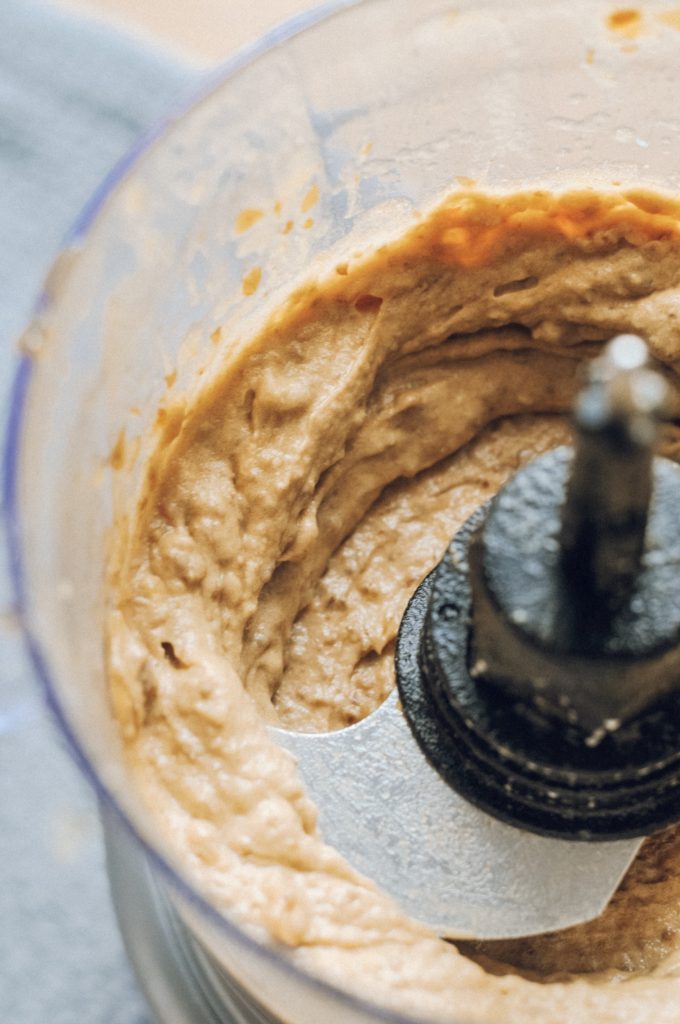 I find a food processor works best for this, this is the model I use and love!
Next, combine the wet and dry ingredients, but do so patiently. I like to add the dry ingredients in thirds. For every pour of dry ingredients, I follow with 1 T of nut milk mixed in. Repeat until all the dry ingredients are added and mixed. If batter is not moist, add in 1 T nut milk at a time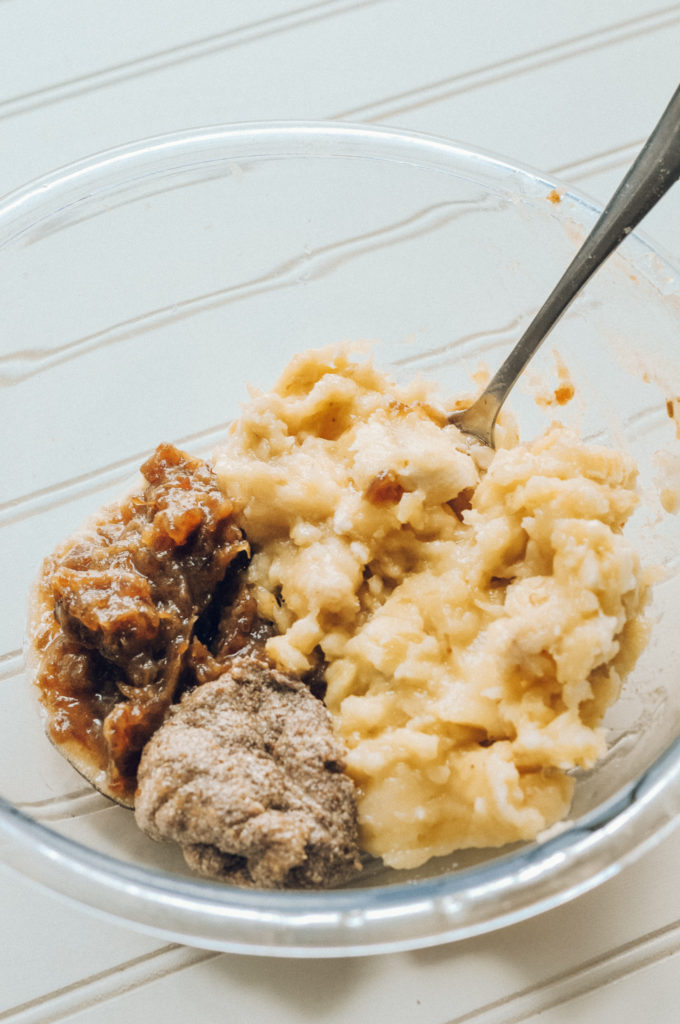 Bake for 45-50 minutes, careful not to over-bake. Test with a toothpick, making sure the toothpick comes out clean. Let cool and serve! PB drizzle is optional, but highly recommended 😉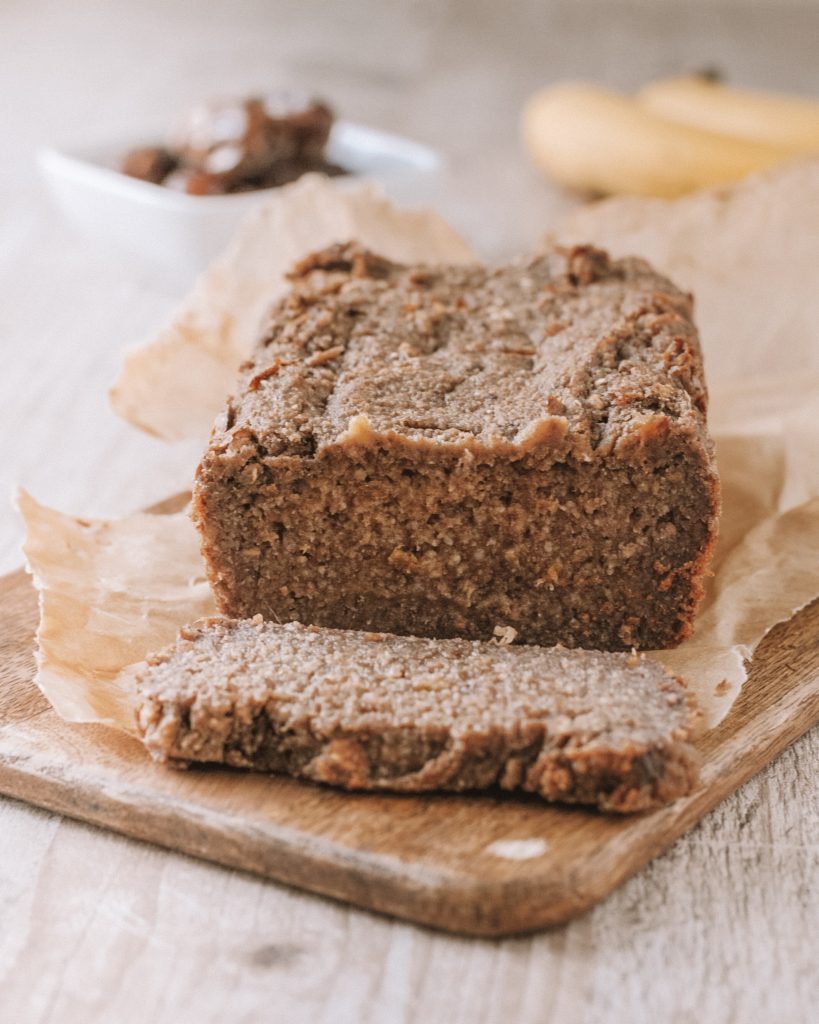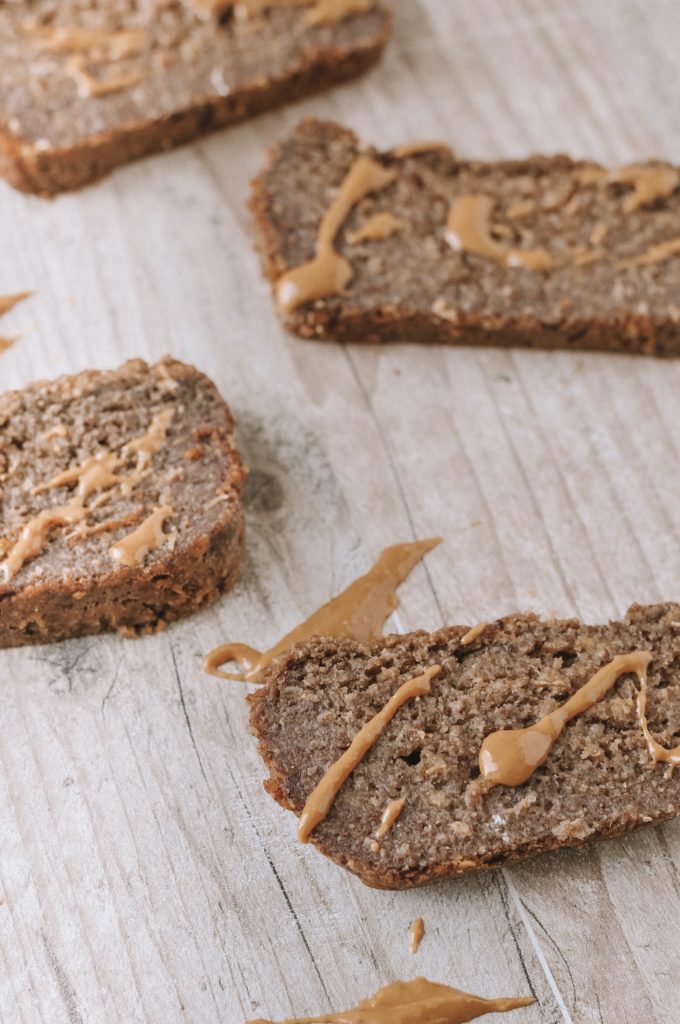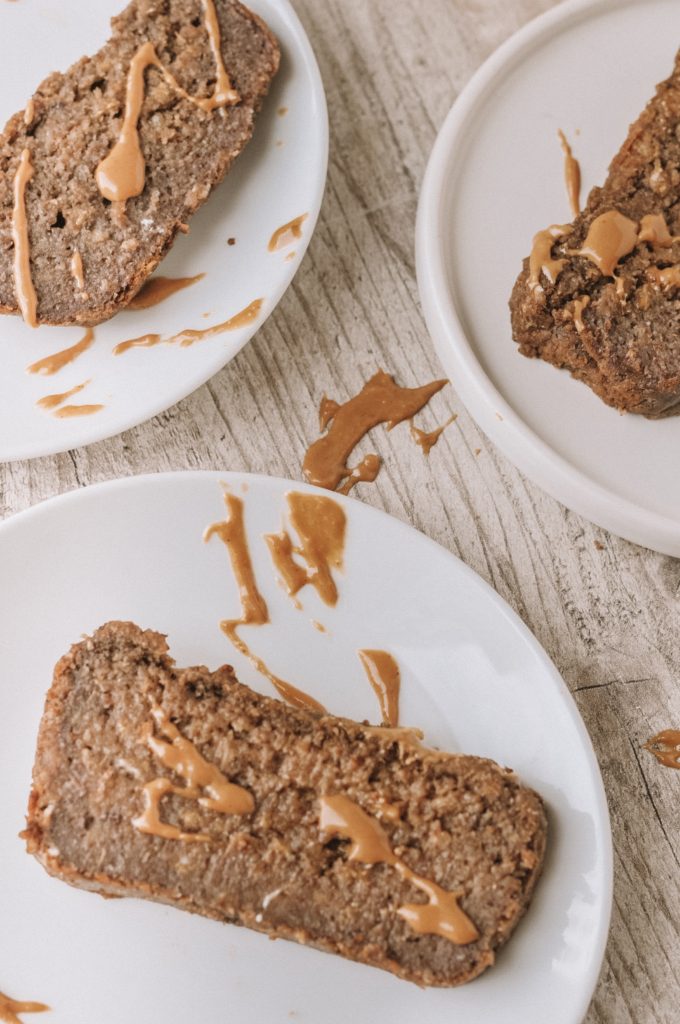 Oil-free Vegan Banana Bread
Ingredients
4 spotty bananas
2 C Oat Flour
1 Flax egg*
1/3 C Plant milk (I used almond)
12-14 pitted medjool dates (soak if not soft)
1 Tb vanilla extract
1 tsp cinnamon
1 tsp apple cider vinegar
3/4 tsp baking soda
3/4 tsp baking powder
5-7 T almond milk
Directions
Step 1

Preheat oven to 350 degrees F

Step 2

*Make flax egg by combining 1 T ground flax seeds with 3 T warm water

Step 3

set aside until mixture gels

Step 4

In food processor or small blender, add wet ingredients: dates, 1/3 c almond milk, apple cider vinegar and vanilla and blend until paste forms

Step 5

Move wet mixture to a large bowl, then add in mashed bananas and flax egg, set aside

Step 6

In medium sized bowl add dry ingredients: oat flour (can easily make by blending rolled oats into fine powder), baking soda, baking powder, cinnamon, stir until well combined

Step 7

Slowly add the dry mixture (I mix in 1/3 dry mixture at a time) into the wet mixture, stirring  in extra almond milk, 1 T at a time until batter is moist

Step 8

Pour batter into a loaf pan lined with parchment paper

Step 9

Bake for 45-50 minutes (test with toothpick)

Step 10

Let cool

Step 11

For best results, once cooled, cover to let top moisten

Step 12

Recommended to store in fridge for maximum freshness!