Matcha Latte's. Warm, creamy, antioxidant filled, and all the energy without the crash. What more could you ask for!? Today I am sharing my favorite matcha latte go-to recipe. Making the perfect matcha is all about having a few high-quality ingredients to yield that creamy, desirable cup.
Coconut butter. One of my must have add ins! It gives your latte that rich creamy taste, with no added sugar and a healthy dose of fats. I don't really measure, just spoon it on in 😉 and always lick the spoon.
Hot water OR unsweetened nut milk. If you're using coconut butter, you can definitely use hot water without adding any nut milk and still yield that creamy consistency! If you want to take it up a notch, add your favorite nut milk (this is my favorite way to make it). I usually do a quick homemade one (just add a spoonful of nut butter and blend with water) or use a nut-based milk that doesn't haveany sweetness or gums. If I do add nut-milk, I usually do a 50/50 ratio of water to nut milk, and then heat both!
Add-in's! Not necessary, but always enhances the flavor and nutrient benefits. My go to's are Tocos (makes it extra creamy), Maca powder (a natural energy booster that doesn't have caffeine, and has a caramel-y taste, and mushroom powders depending on my mood (ashwaganda, lions mane, cordyceps). Cinnamon is always a favorite of mine too.
If you want a flavor boost, try making a mint matcha (just add a small drop of peppermint) or amplify the taste with some vanilla bean powder!
Finally.. Matcha! It goes without saying – this is the most important ingredient of all! You always want to use a high quality matcha powder. This ensures you're getting the maximum nutrients! Lately I've been loving Sun Potion Matcha.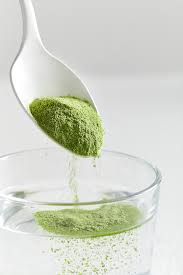 Now that we've covered all the ingredients – to yield that extra creamy consistency, I always blend my matcha latte! Throw all of the above ingredients into your blender with heated nut milk or water, and blend that baby up. With these ingredients, theres no recipe even needed. Just spoon it all in 😉