I'm all about EASY recipes.
These simple no-bake spirulina bars
require just 5 ingredients,
are vegan,
plant-based,
and have no refined sugar!
All you need is a high speed blender (I use and love my Vitamix) or Food processor. I used Vital Proteins Spirulina in this recipe as my plant-based protein source! Despite the green color of the bars, you actually cannot taste the Spirulina whatsoever! So don't be fooled. I ate half the batch already..
Whenever I can, I like to make my own energy bars. They cost less, taste better, and have REAL food ingredients! No added sugars, sodium, or fillers. No preservatives keeping them shelf-stable or preventing them from expiring. Real food SHOULD expire. Makes you think about what's in your food when it doesn't.. If you don't believe me, read my blog post The Truth About Protein Supplements & Being an Informed Consumer!
These bars are made with just five simple ingredients, most of which you'll likely have in your kitchen. Rolled oats (sprouted for better digestion), Medjool Dates (natural source of sweetener with tons of fiber and nutrients), 1 Banana, Vanilla and Vital Proteins Spirulina; thats it! They are packed with vitamins, minerals and tons of nutrients — providing you with quick energy to fuel your day.
I added Vital Proteins Spirulina as one of the most nutrient dense protein sources (and arguably the most nutrient dense food) available. Despite the overpowering taste of Spirulina, it's completely hidden in this recipe. Just a fun green color and a whole lot of nutrients!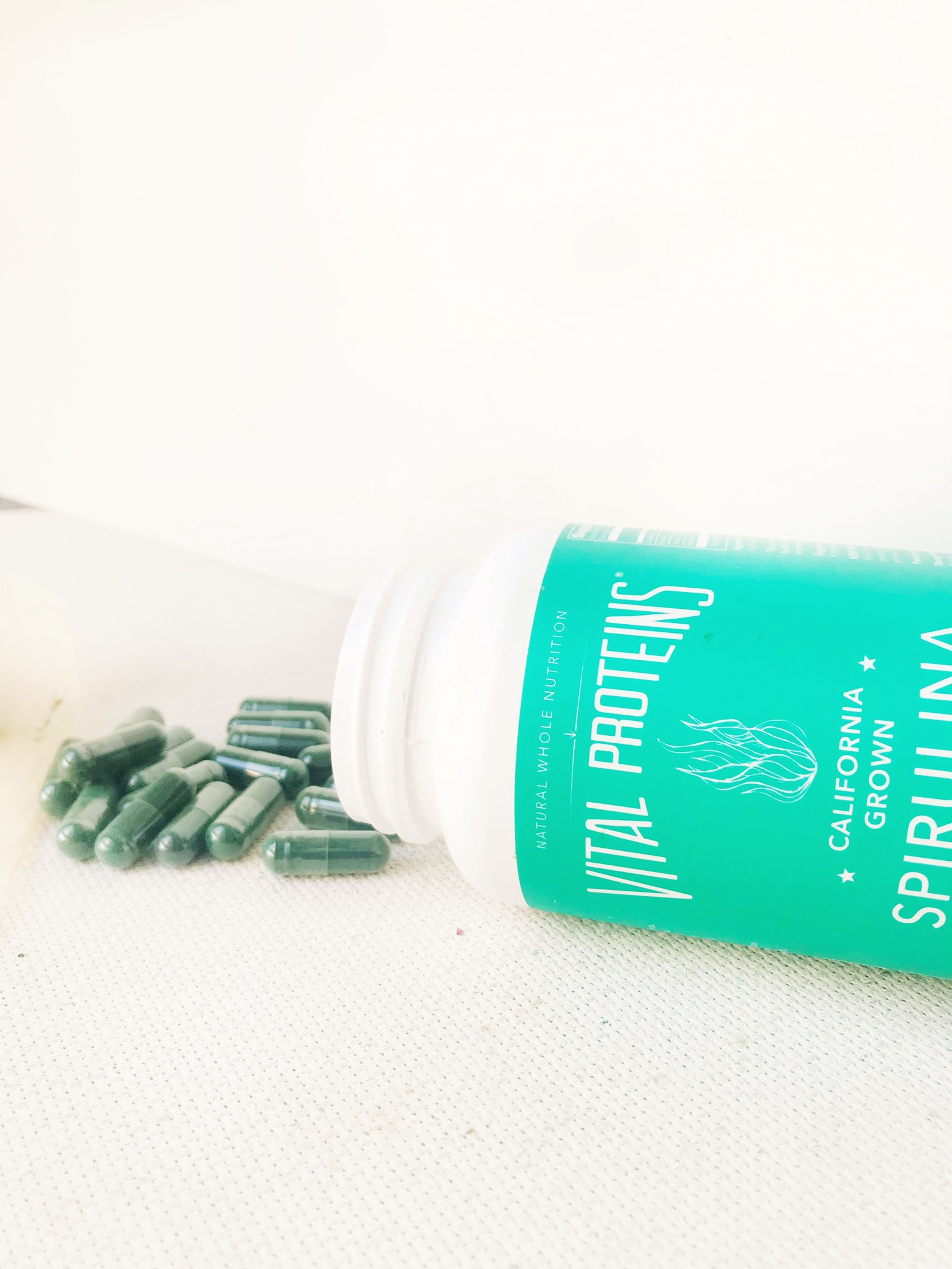 Spirulina is:
60% protein (with all essential amino acids)
Vegan
Rich in Vitamins and Minerals
Detoxifying (detoxes heavy metals)
I love Vital Proteins Spirulina because it comes in capsule form! This makes it easy to travel with, grab on-the-go, and lets be honest, just get down at all… it's not the besttt tasting superfood out there! I love baking with spirulina too; the taste is hidden, but whatever you're making will be jam-packed with nutrients.
I'm all about getting as many nutrients, with as few ingredients as possible.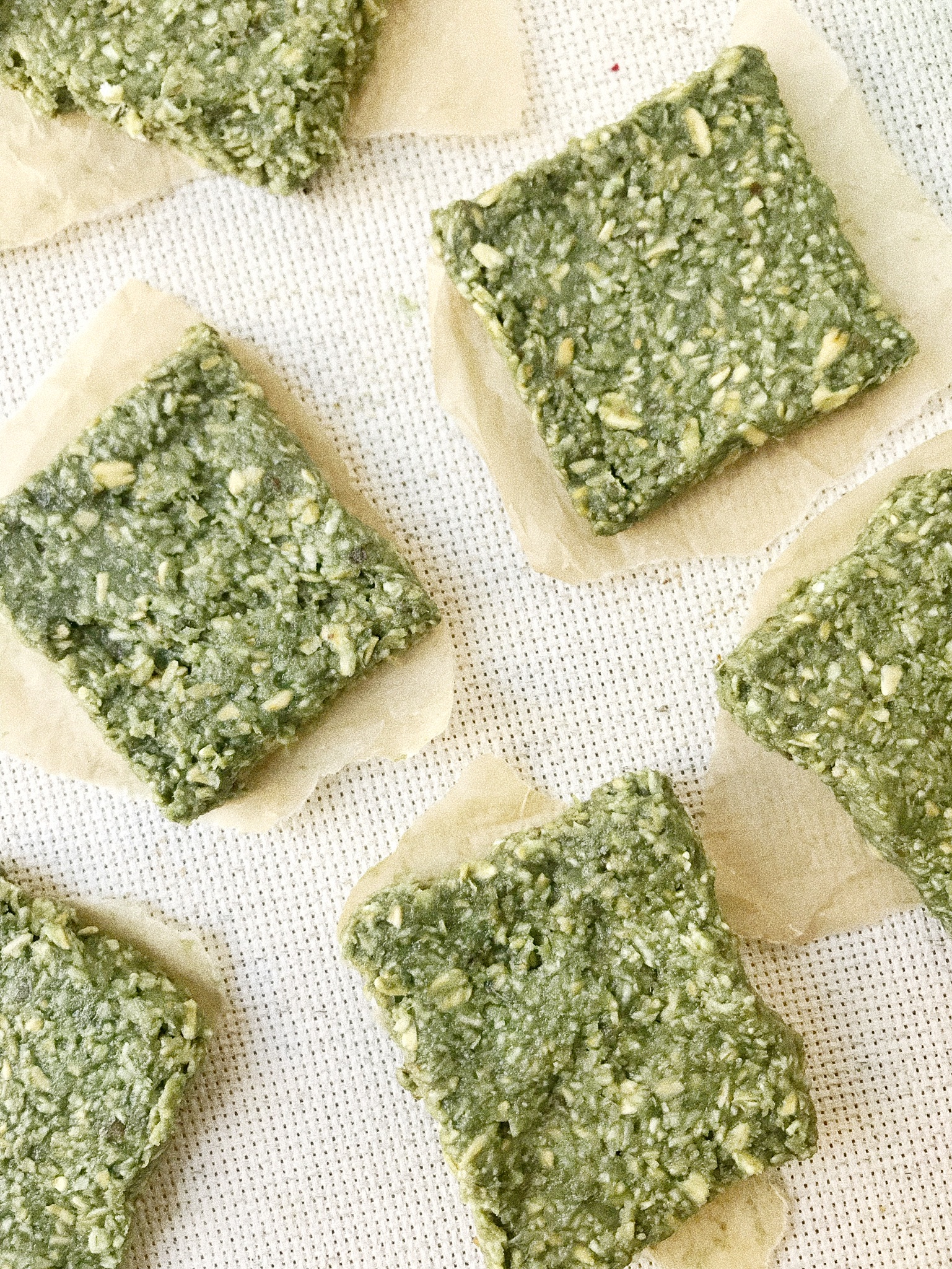 Case in point: These 5 ingredient Spirulina Bars. The recipe is extremely adaptable. You can't really go wrong when making energy balls/bars; you can always adjust the ratios to get the consistency or taste you'd like! You could sub the dates for nuts; add in any Vital Proteins Peptides (I recommend the Vanilla Peptides in this recipe) in addition to, or in place of the Spirulina; Sub the oats for nuts; and add in any flavorings you'd like — cacao, superfoods, fruit. Don't be afraid to experiment in the kitchen, that's how some of the best recipes are made!
But if you do make these, be sure to tag me on Instagram so I can share 🙂
Now for the recipe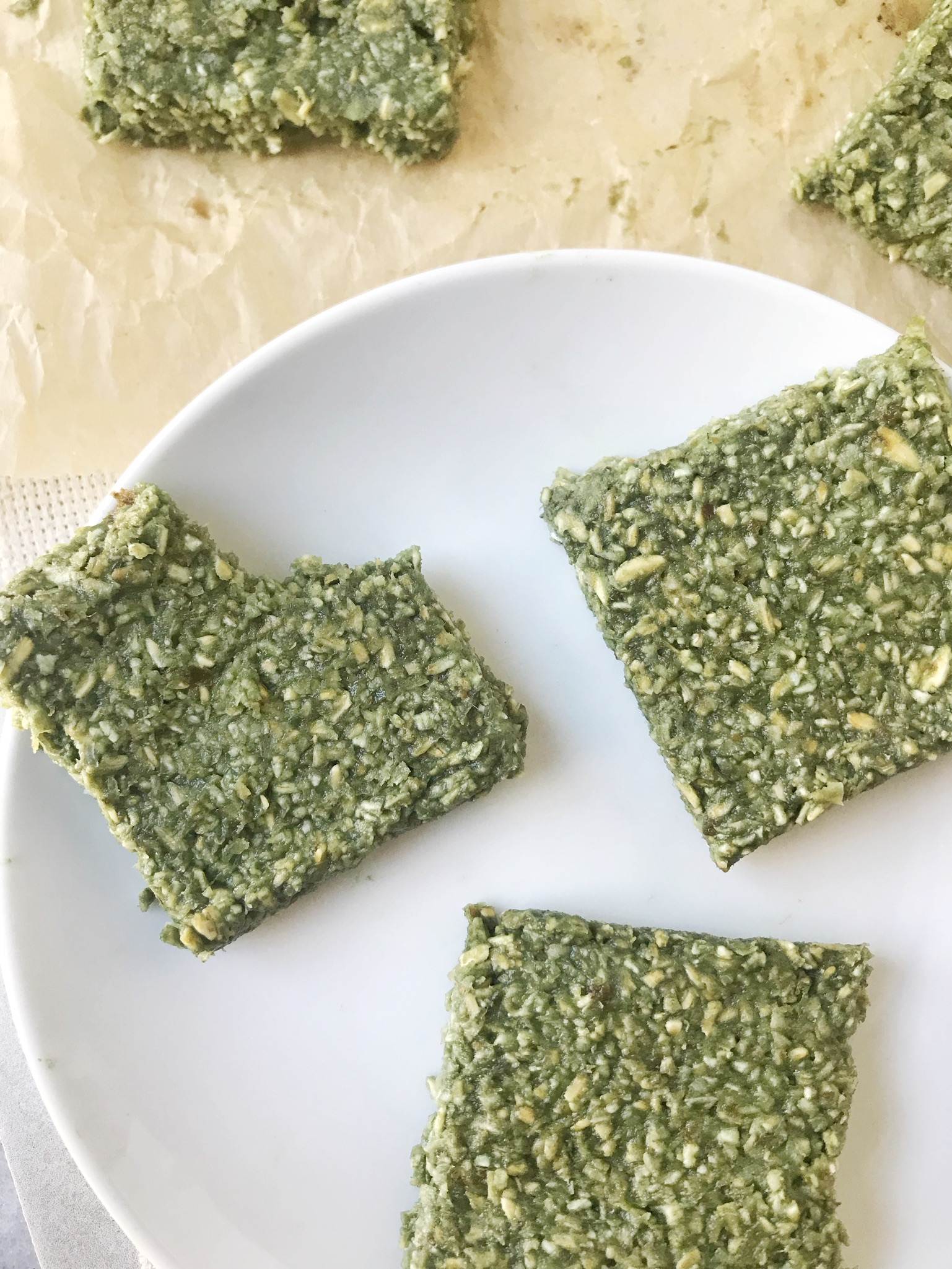 No Bake Spirulina Bars
Ingredients
2 c rolled oats (I used sprouted oats)
1 spotty banana
2-3 capsules Vital Proteins Spirulina
10-12 Large Medjool Dates (pitted
if not soft, soak in water)
1 tsp ground vanilla bean or extract
Directions
Step 1

In a high speed blender or food processor, add the oats and pitted dates. Blend until starts to combine

Step 2

Add the banana, blending again until mixture comes together. If necessary add tsp liquid at a time (but you don't want the mixture to be runny)

Step 3

Add the vanilla and spirulina, blending again until well combined

Step 4

Taste test. The mixture should be the consistency of a thick batter

Step 5

Pour mixture into a pan lined with parchment paper

Step 6

Refrigerate for at least 4 hours until solidifies, but I found it tastes best a little longer when the flavors have time to merge

Step 7

Keep stored in fridge in airtight container