6 ingredients. SO good, SO simple!! I've been on a random tahini kick recently, and decided to make some tahini energy balls. They turned out so yummy, and took minutes to make. I've been using both sprouted oats and nut butters as they are so much easier for your body to digest.
WHY sprouted, you ask? Phytic acid is an anti-nutrient found in nuts, seeds, and grains. When phytic acid is present, it prevents mineral absorption. Essentially, the phytic acid binds with minerals (especially iron, zinc, calcium, copper, and magnesium) and prevents our bodies from absorbing them. When our nuts, grains, and seeds are sprouted, the process neutralizes a significant amount of the phytic acid present, making the nutrients much more bio-available to our bodies!
Not only will raw nuts, seeds + grains inhibit mineral absorption, but they're also enzyme inhibitors. They prevent both metabolic (enzymes that help with every biological process the body undergoes ) and digestive enzymes (the enzymes that help break down food) from doing their job. Enzyme inhibitors will bind, clog, or denature the enzymes. Therefore, consuming large quantities of raw nuts, seeds or grains can put a large strain on the digestive system! The best way to prevent this + get maximum nutrients from your nuts and seeds is SPROUTING them! My favorite sprouted nut butter brand is Dastony, and the sprouted grains I buy are from Sprouted Flour. I buy both of them on LuckyVitamin! I used Sprouted Flour GF Rolled oats in this recipe, and Dastony Sprouted Organic Almond Butter.
As you know by my recipes, I love baking with Vital Proteins Vanilla Cococnut Peptides. I used a heaping scoop as a natural sweetener in this recipe, where you also get the added probiotic and hyaluronic acid benefits.
This recipe is so simple, with only 6 ingredients: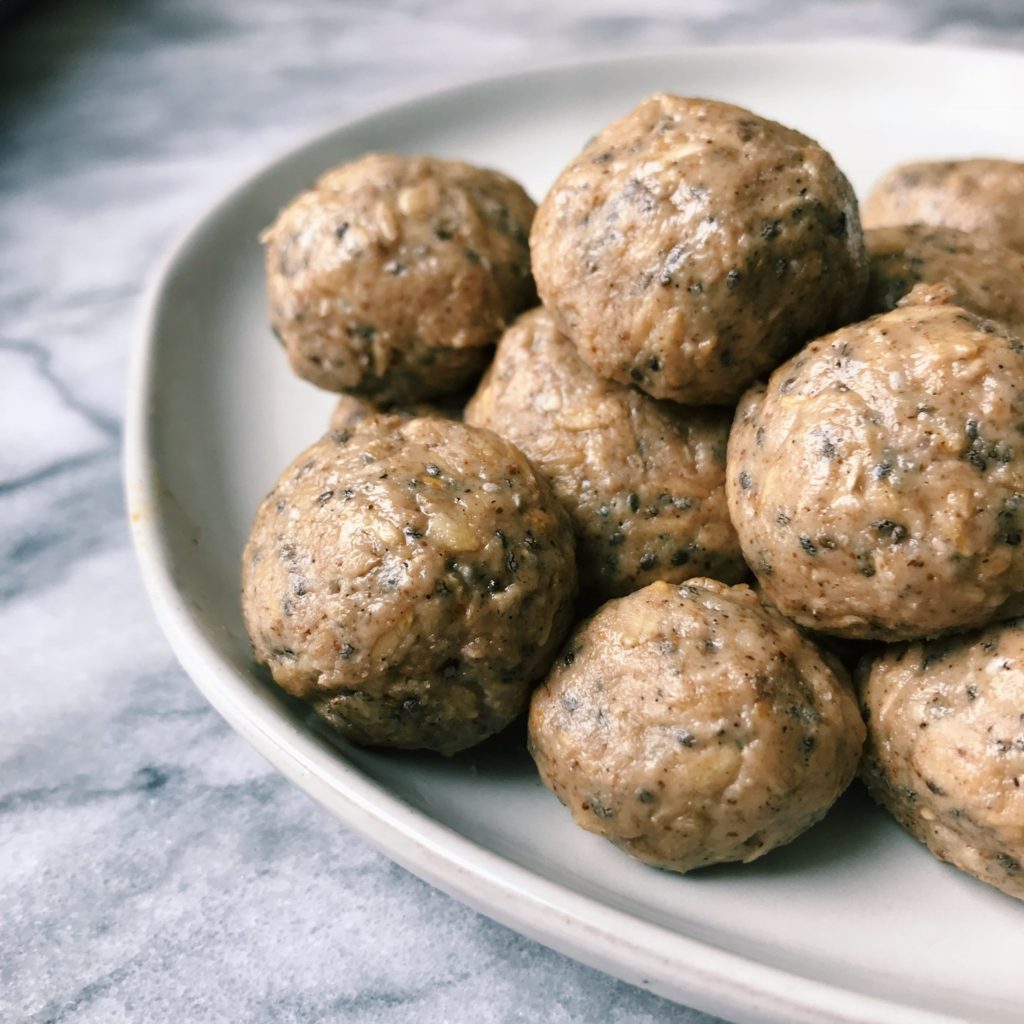 Vanilla Tahini Balls
Ingredients
1 c GF sprouted rolled oats
1/4 c organic tahini
1/2 c Dastony Sprouted creamy Almond Butter
1 heaping scoop Vital Proteins Vanilla Coconut Peptides
1 T chia seeds
1 T Sun Potion Tocos
1 T manuka honey (optional)
Directions
Step 1

Combine all ingredients into a bowl, and mix well

Step 2

Freeze dough for ~15 mins until able to roll into balls

Step 3

Roll dough into small balls, and place back into freezer for about 2 hours

Step 4

Store in fridge

Step 5

* If you're not using Vital Proteins Vanilla Coconut Peptides, I recommend you add additional oats + sweetener of choice