Don't get me wrong. I LOVE coffee. The smell, the taste.. it's perfect. But when you make a Matcha latte the right way…. Perfection.
What's so great about Matcha? Matcha is known for a steady energy boost, increased mood, faster metabolism, and increased productivity. Alright, I am sold.
I decided to give Matcha a go. I never really got on the matcha train, mostly because every time I tried matcha, it either tasted like grass or was pure sugar. I never found a recipe or brand I truly loved.. until I learned how to make it on my own. It couldn't be more simple, and honestly, everything is better homemade.
If you're looking for a one and done matcha latte, try Vital Proteins  Matcha Collagen! No kitchen experience required. All ya need to do is add one scoop to your favorite liquid (I recommend Oat or Almond milk over water so its nice and creamy) and if you want to add some sweetener, be my guest. Matcha latte made simple, plus it has a whole host of benefits. It's a high quality source, it does not have a bitter or chalky taste, it's combined with collagen peptides for a gut-healing protein boost, and it tastes delicious on its own.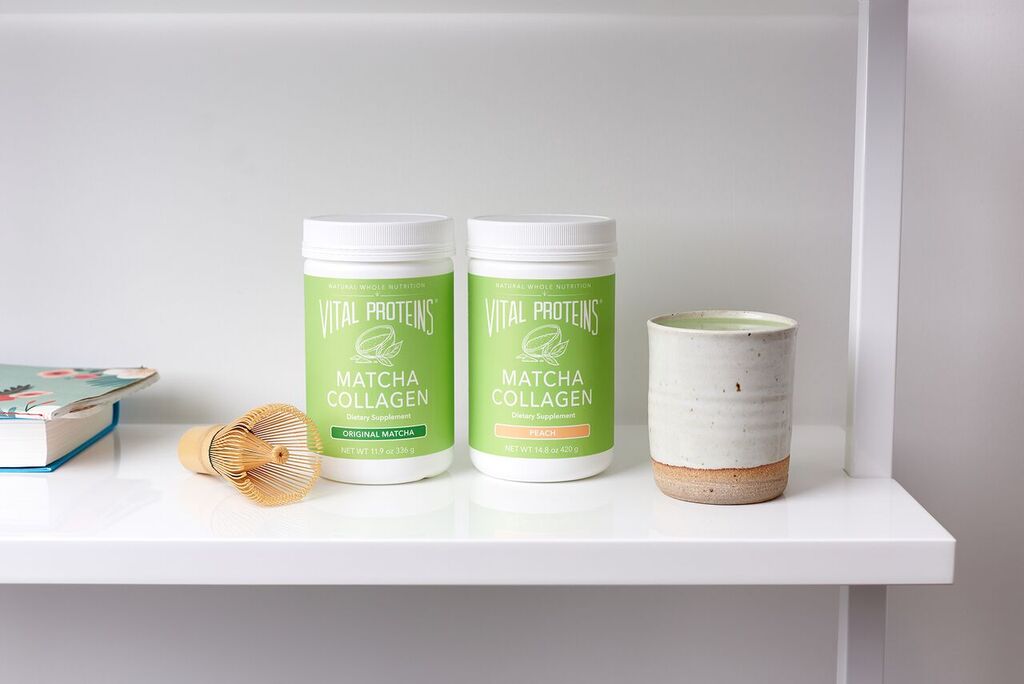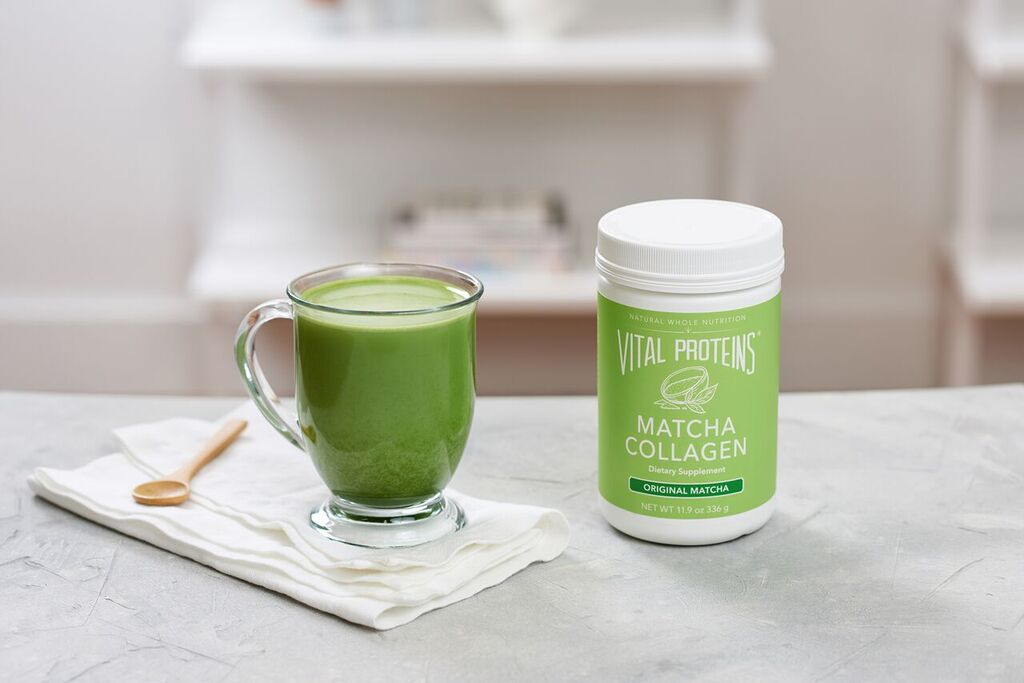 With Matcha I feel NO feelings of anxiety or irritability. No mid-morning crash. I don't feel a sense of "dependence", just a nice little natural energy boost.
What makes the caffeine in matcha so different from coffee? Matcha won't cause that post-caffeine "crash" — thanks to its naturally occurring L-Theanine. L-Theanine is an amino acid which stimulates the production of alpha waves in the brain. The alpha waves provide us with the ability to concentrate, but in a calm and alert way. People actually use L-Theanine to treat anxiety because of the feeling of tranquility it promotes!
Matcha is also known for its powerful antioxidant levels. It contains 137 TIMES the amount of antioxidants compared to other green teas. A diet rich in antioxidants can help prevent cell damage, as well as lower your risk for chronic disease.
Matcha has been shown to boost weight loss, decrease the risk of heart disease, and even inhibit the growth of cancer cells. All while tasting delicious?! I mean… why wouldn't you drink it.
To get that perfect Matcha Latte froth, I recommend buying a frother (you can purchase on amazon for less than $10, like this one). Just mix your heated nut milk with your matcha and boom, foamy perfection.
Now…. for my favorite matcha latte recipe! I promise, you'll love this. It is creamy, delicious, and can be enjoyed hot or iced!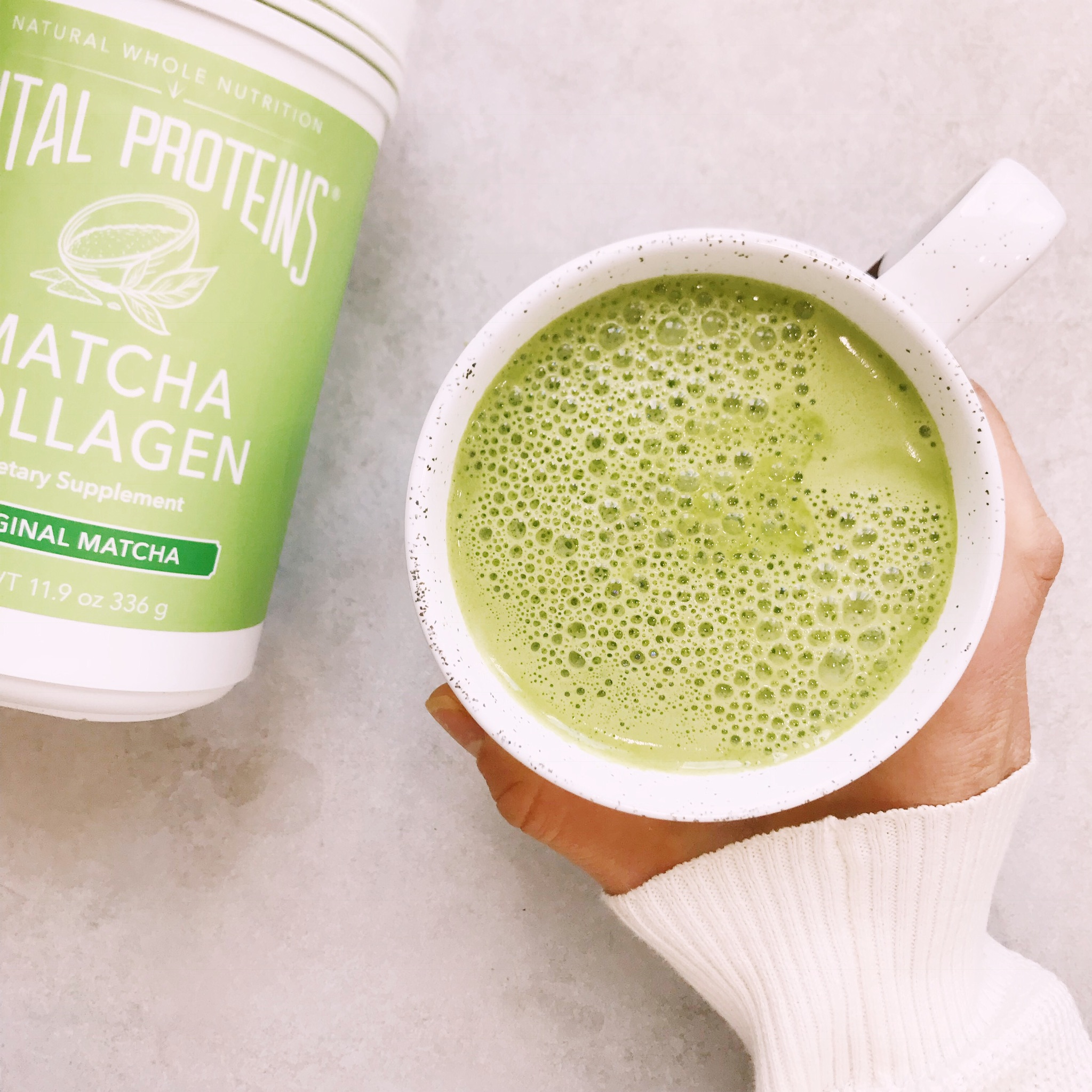 Cashew Milk Matcha Latte
Ingredients
1 scoop Vital Proteins Matcha Collagen
1-2 cups homemade Cashew Milk
1/2 - 1 Tablespoon Coconut Butter
optional sweetener: 1 soft + pitted date
Directions
Step 1

To make homemade cashew milk, simply soak 1 c cashews in water overnight. Drain the next morning, then add to a high speed blender with 3 cups of water

Step 2

Heat desired amount of liquid (1-2 cups) until it started to bubble (not boil) – you can use water, cashew milk, or nut milk of choice!

Step 3

Pour steamed liquid into blender with remaining ingredients. *You can also pour into a cup and blend with handheld blender, just leave out the date

Step 4

Enjoy!!