Raw, vegan pumpkin pie balls that taste like a mixture of pumpkin pie and cinnamon spiced munchkins. They are amazing! I find the longer they sit in the fridge, the better they taste (as if they last all that long…) as the flavors mend together. The perfect fall-inspired snack! Enjoy as a snack, a pre-workout bite, or even dessert! Just a few simple ingredients is all you need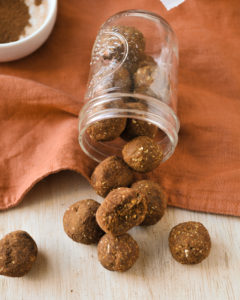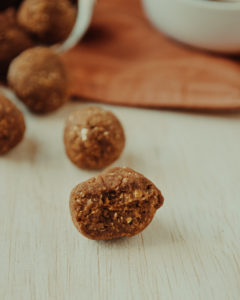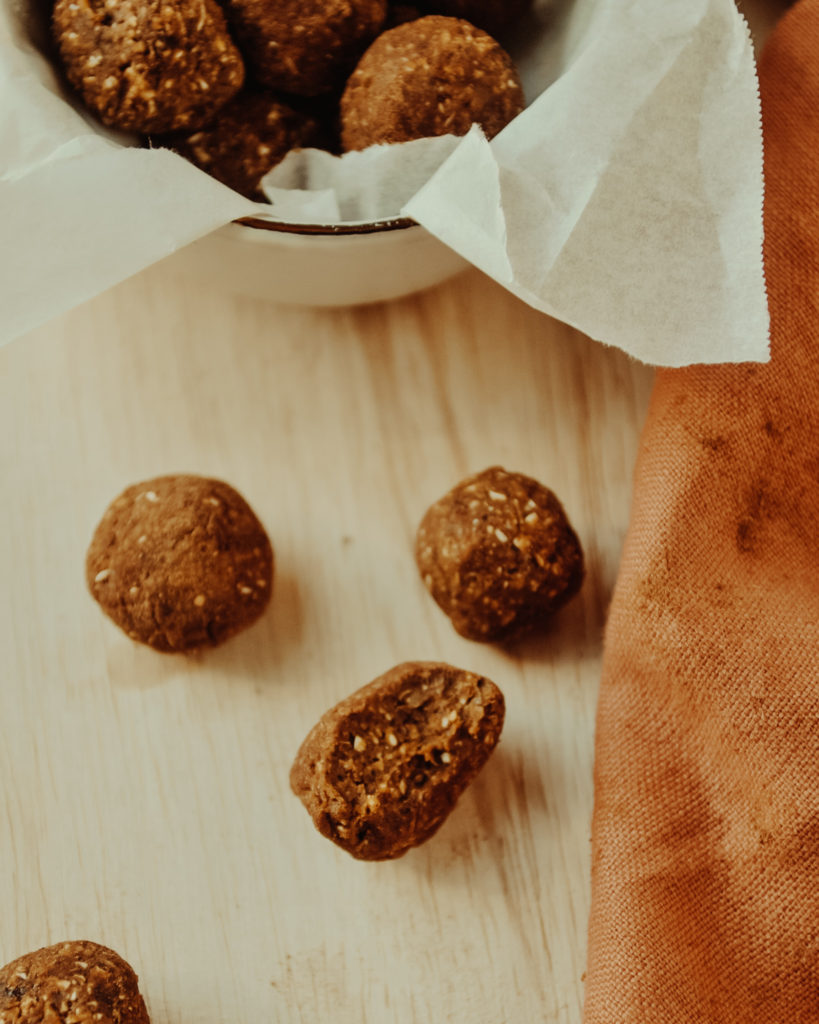 I added in Vital Proteins Vanilla Coconut Peptides for a healthy protein boost! I love adding Vital Proteins Vanilla Peptides in particular to recipes, because it heightens the sweetness, without any sugar! The coconut water peptides are my absolute favorite, made with only natural sweetneners from the coconut water powder and vanilla bean. It's seriously so delicious, and you're also getting the added gut healing benefits!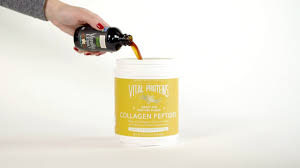 The best part about this addition, is it does not change the flavor or recipe at all! I just add scoop to whatever I'm making, and I have a healthy protein boost with a sweet vanilla flavor 🙂 The vanilla coconut peptides also have added probiotics, so you're really giving your gut some love! Unlike a lot of protein powders, Vital Proteins Peptides are easy to digest, so they are a great addition to your diet. Try adding them to these raw balls and tell me what you think!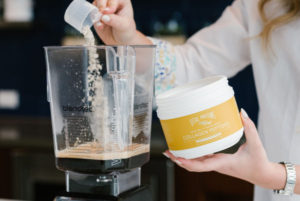 Pumpkin Pie Balls
Ingredients
12 large or 15 small medjool dates
1 1/4 c rolled oats
1/3 c unsweetened pumpkin puree
1/2-1 Tablespoon chia seeds
1/2 Tablespoon vanilla extract (or 1 tsp vanilla bean powder)
1 Scoop Vital Proteins Vanilla Coconut Peptides
2 Teaspoons pumpkin pie spice (or more to taste)
Directions
Step 1

If dates are not gooey, soak in warm/hot water until soft (~15 minutes)

Step 2

Pit dates, then add to a food processor

Step 3

Blend dates in food processor until a sticky consistency forms (not too long or it will become more liquid)

Step 4

Toast 1/2 c of the 1 1/4 c oats (optional, but enhances the flavor of the bliss balls) To toast: I add oats to a pan lined with parchment paper, add to the oven while off, turn it on 350 F, and remove when the oven reaches 350

Step 5

Add remaining ingredients to the food processor

Step 6

Blend until a dough forms (you will have to scrape down the sides multiple times,be patient!

Step 7

If necessary, add 1 tsp liquid (I did almond milk) to batter to get dough to form (don't add more than this or the batter will get runny)

Step 8

Once dough forms, store in fridge to harden (10-20 mins)

Step 9

Remove from fridge and roll into balls

Step 10

Option to roll balls in extra pumpkin pie spice

Step 11

Store in fridge or freezer (they won't harden in the freezer!)